Many homeowners nowadays consider a well-equipped walk-in closet to be indispensable. These storage compartments have evolved into distinct spaces with functions other than clothing storage. Both men and women want their bespoke closets to be as stunning as the rest of their houses. The walk-in closet or closets in the master bedroom create a unique aesthetic statement, typically displaying one's apparel in the arrangement of a tiny yet fashionable store.
This collection of bespoke walk-in closet ideas demonstrates how opulent these hidden places may be made to look and feel. Beautiful finishes, stunning accent pieces, both spectacular and functional lighting setups, and detailed closet organization ideas are shown in our handpicked portfolio of designs. Find suggestions to maximize the possibilities of little tucked-away bedroom closets with aesthetics, color schemes, and budgets in mind.

What Is Walk-in Closet?
A walk-in closet, dressing room, or walk-in wardrobe, is a big closet, wardrobe, or room that is mainly used for storing clothing, footwear, and other personal items and serving as a changing room. Walk-in closets, as the name implies, are closets large enough to walk into and peruse through the contents. It is frequently a tiny chamber with a wall-mounted cabinet, shelves, and drawers, which might have or not have doors.
Modern walk-in closets are frequently more than just "closets," with some being turned into a personal hideaway for meditation or space to rest and unwind apart from other close relatives. Washers and dryers with laundry stations, mini-refrigerators with wine bar, countertops with espresso machines, charging stations and small workstations, and lounge places are some of the unusual elements that people tend to include.
Pros and Cons of a Walk-in Wardrobe
This type of wardrobe has a lot of advantages, including:
Excellent for Organization: Walk-in closets eliminate the need to play Jenga with your clothing; no more fretting that the entire closet will fall out when you yank on a jacket. A walk-in store also spreads out its merchandise, making it easier to peruse.
Great for Privacy: Some homeowners may choose to keep jewels in walk-in closets, which are far safer than wardrobes. A walk-in is massive enough for safe boxes if necessary; at the very least, valuables are easier to conceal in a big room than in a wardrobe.
Maximize Available Space: If you have a room with an unusual design, the little recesses can be used as a walk-in closet. You may "square off" the niches with a walk-in, or even make triangle walk-ins. Both are more practical than just covering up the gaps with extra décor.
Some of the cons of a walk-in closet include:
Prone to Misplacement: A poorly organized walk-in closet might be worse than an overflowing closet. A walk-in has many nooks and crannies, making it simpler for things to get lost.
Pay More For Lighting & Carpentry: Lighting seems to be a popular issue in most walk-in closets since they are dark. Be prepared to pay a little more for proper lighting. Task and accent lighting are required, which means more wiring and a higher power bill. Additionally, walk-ins need a considerable volume of carpentry. Because the furnishings of a walk-in are unique to its shape, plenty of the shelves, cupboards, and so on.
Walk in Closet Designs
Luxury Walk in Closet
Welcome to your dream closet, a luxurious walk-in wardrobe designed with the ultimate style and convenience in mind. As you enter this room, you are greeted by a stunning bright gold colour scheme that exudes sophistication and glamour.
The walk-in closet features multiple wardrobes with golden PVC finish door panels, providing ample space to store all your clothing items. The designer has also incorporated open cabinets and glass cabinets that add to the aesthetic appeal and offer a practical storage solution. Finding your favourite outfits is a breeze with frequently used items placed in easy-to-reach locations.
The high-end closet's spacious layout has allowed for an island and an independent glass wardrobe to be added to the centre of the room. Here, you can store your most delicate and expensive accessories, bags, and dresses, all beautifully displayed and easily accessible. The island also provides a convenient surface for folding clothes, putting on shoes, or simply relaxing and enjoying your luxury walk-in closet space.
Modern Walk in Robe
The neutral tone of this closet conveys refinement. If neutrals are more your comfort and leisure zone, then stick to homogeneous soft grey units. This large transitional closet in Italy features grey cabinets with lots of storage space.
The secret cloakroom is the focal point of this wardrobe's design. Creating a little magical chamber with sliding doors. The construction is quite unique, yet it is also highly useful. This modern walk-in closet will give your home a sleek, high-end look.
Minimalist Walk-in Closet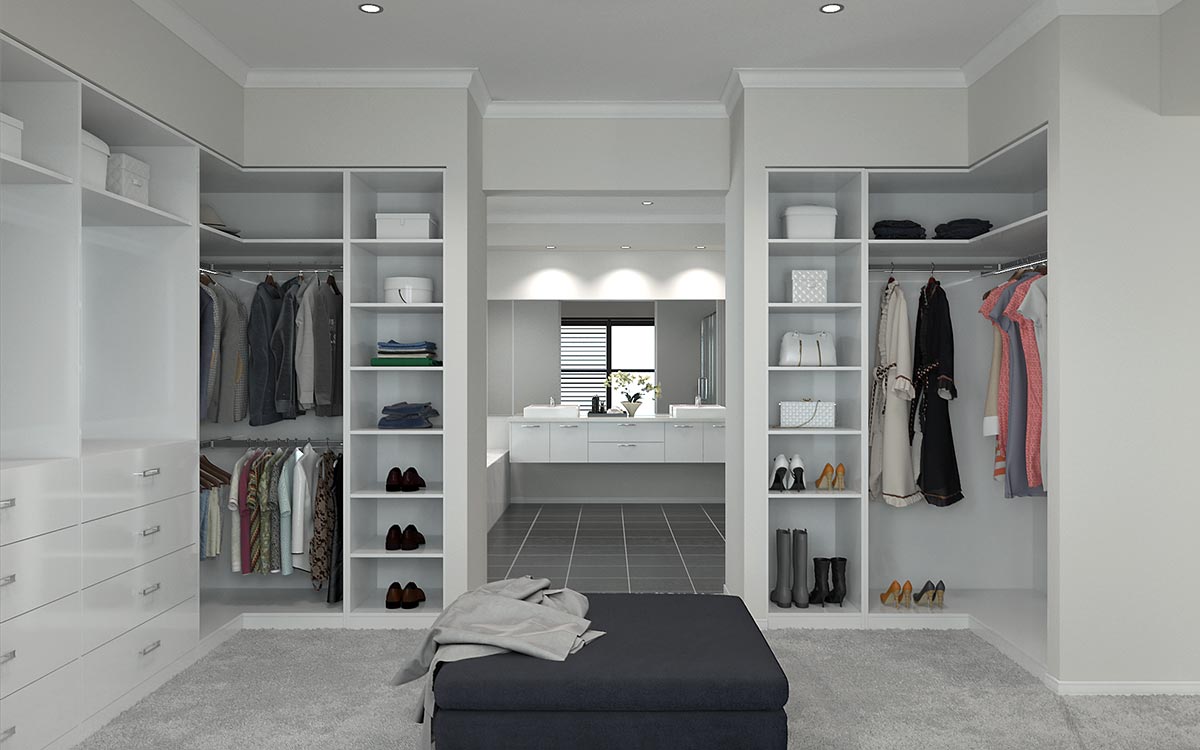 A matte white minimalist walk-in closet is a sleek and modern space designed to provide a minimalist approach to storage and organization. This type of closet is typically characterized by its clean lines, monochromatic colour scheme, and lack of ornamentation, making it a popular choice for people who prefer a minimalist and modern aesthetic.
With a matte white finish, the closet creates a bright and airy atmosphere, making it easy to see and find items. The lack of clutter also makes it a calm and serene space that can serve as a retreat from the chaos of everyday life. The design typically includes ample storage space for clothing, shoes, and accessories, with carefully thought-out storage solutions that maximize efficiency and minimize visual clutter.
You can customize a matte white minimalist walk-in closet to fit any space and lifestyle, making it a popular choice for those who value style and function. Whether you have a small or large space, a minimalist closet can help you stay organized while creating a beautiful and functional space.
Master Bedroom Closet
If your bedroom is quite large, try constructing a partial partition to provide room for a changing room or walk-in closet.
This bedroom is connected to the U-shaped walk-in closet. It is a self-contained area with plenty of storage and changing space. This walk-in closet's primary color is refreshing white, with serene gray tones to create a balanced look and make the closet more simple and intriguing.
Made-to-measure storage gives room for the construction of compartments to meet any storage requirement. This closet has a fitted wardrobe with a predetermined quantity of hanging space and drawers. Stack your stuff all the way to the rafters. If you have high ceilings, make the most of your extra height. The upper parts can be utilized to store out-of-season clothing, special event attire, or just bedding.
Large Walk-in Closet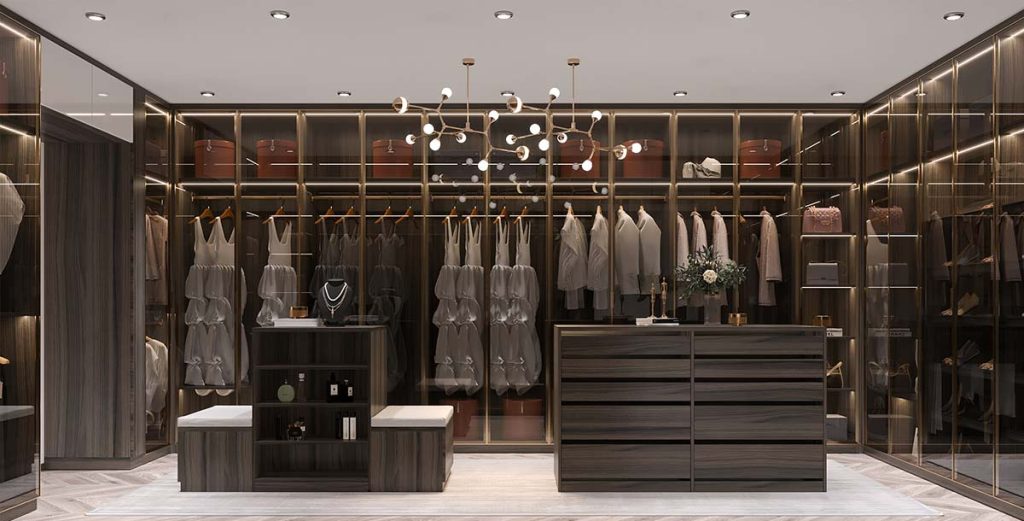 It is a luxurious, spacious walk-in closet with a unique and sophisticated aesthetic. As you step inside, you'll be greeted by the rich and inviting ambience of the dark wood tone that adorns the space. The closet features two expansive islands that serve as centrepieces, providing ample storage and a convenient surface for organizing accessories and clothing items.
The wardrobes in this closet are truly a sight to behold. Each one boasts brown-tone glass doors that add a touch of elegance and refinement. The glass doors enhance the visual appeal of the wardrobes and serve a practical purpose by allowing you to see the wardrobe's contents without opening them. Additionally, the glass walk-in wardrobes have inserted lighting that illuminates the interior and highlights your clothing items, making it easy to find the clothes you're looking for.
This large walk-in closet perfectly exemplifies how design and functionality can coexist seamlessly. Whether you're getting ready for work or a night out, this closet provides the ultimate space to organize your wardrobe and accessories with ease and style.
Small Walk-in Closet
A walk-in closet with a single row of open wardrobes may be made on a reasonably compact floor footprint if you are planning tiny bedroom ideas. The closet, built into the walls, makes maximum use of the restricted space in an L-form.
Add dressers and shoe racks to your area for a quick but effective solution. Remember to look up – additional baggage and bags may be readily put on high shelves to save space. Install a modular closet system to construct a bespoke configuration of rails and shelves to meet your individual requirements.
The melamine finish wardrobe closet is a cost-effective alternative for those on a tight budget. It is also scratch-resistant, moisture-proof, and long-lasting.
White Walk-in Closet
This closet design is basic but attractive, with a clean white lacquer finish. Because white is high-contrast and brilliant, it creates a bright and spacious sensation; it also provides a wonderful view from the bedroom and allows light to flow through the rooms.
This walk-in closet is L-shaped and features an island. There is plenty of space to store your coats, hats, gowns, bags, shoes, and accessories. The central island serves as a storage area for minor goods such as accessories and undergarments. On one side of the island, there are leather chairs for individuals to relax; you can sit here and wear shoes.
The appropriate lighting is crucial. The modest white and gold chandelier not only looks elegant, but it will also provide you with a well-lit closet, which is essential for getting ready in the morning.
Pink Closet
Do you want a walk-in closet that is as adventurous as your fashion sense? Paint a mild blast of color behind the rails and island and be creative with personal touches, such as the one-of-a-kind hidden flash of LED lighting on crevices. This wardrobe is both stylish and attractive. It looks lovely and charming with white as the main hue and romantic rose pink accents.
The walk-in closet is bright, basic, and well-organized. The one-door-to-top wardrobe closet is made up of visible and hidden pieces, making it not only easy to access but also elegantly store. The built-in lighting and glass doors make the wardrobe appear warm and inviting. Glass doors may also efficiently deflect dust and keep the entire room clean and bright.
The closet also features a multi-purpose dressing table. Painted in rose pink just like the rest of the room to maintain elegance but its functionality cannot go unmentioned. The table can be used for folding clothes, ironing as well as placing make-up products during prepping.
L Shaped Closet
This modular wooden walk-in closet is a must-have bespoke item for the entire home. This walk-in closet has a minimalist wood-tone color with a blend of white.
The drawers are slim and sleek to accommodate plenty of jewelry and small clothing such as undies. The wide space is ideal for hanging dresses, jackets, and shirts. This wardrobe style also has drawers and movable doors. They are ideal for managing folded garments and minor items stored in drawers.
The low stool in the middle is also fitted with a drawer for additional space while also providing support and a seating area while wearing shoes.
The wardrobe carcass is made of particleboard, and the doors have a natural finish wood grain finish with dovetail edges.
U Shaped Closet
It is a small corner walk-in closet that exudes warmth and sophistication with its light wood tone finish. This closet has been designed with functionality and style, offering ample storage space for all your clothing and accessories. The closet features a U-shaped layout, providing easy access to your belongings and making it a breeze to get dressed in the morning. The light wood tone adds a touch of elegance and charm to the space, creating a cosy and inviting atmosphere. Whether you want to streamline your wardrobe or want a beautiful place to organize your clothes, this walk-in closet is the perfect solution.
Conclusion
Walk-in closets are unquestionably worthwhile investments. The popularity of this architectural feature has grown substantially over the years, and walk-in closets are a major bedroom trend. If you're ready to take the plunge, contact our experts at Oppolia for a custom quote based on your specifications.
Fill in to Download Catalogues