The kitchen, often called the heart of the home, is a space where we cook, entertain, spend quality time, and create valuable memories with our loved ones. Therefore, having a well-designed modern kitchen layout is essential to ensure functionality and practicality. The layout should facilitate efficient food preparation, have ample storage space, and provide a comfortable dining and socializing area.
Moreover, a well-thought-out kitchen layout enhances the aesthetic appeal of your home. Your selected design elements enable you to showcase your style and personality. Whether you prefer a minimalist, traditional, or contemporary design, the right layout can make a significant difference in achieving your desired look.
Lastly, a good kitchen layout can increase the value of your home. Whether you plan to sell your house soon or in the future, a modern, functional kitchen can be a significant selling point. It attracts potential buyers and allows you to command a higher selling price.
Modern Kitchen Layout Trends
There have been several changes in kitchen layout trends over the years. Today, people prefer open, versatile, and multifunctional spaces. Modern kitchens are not just about cooking but also dining, working, and entertaining.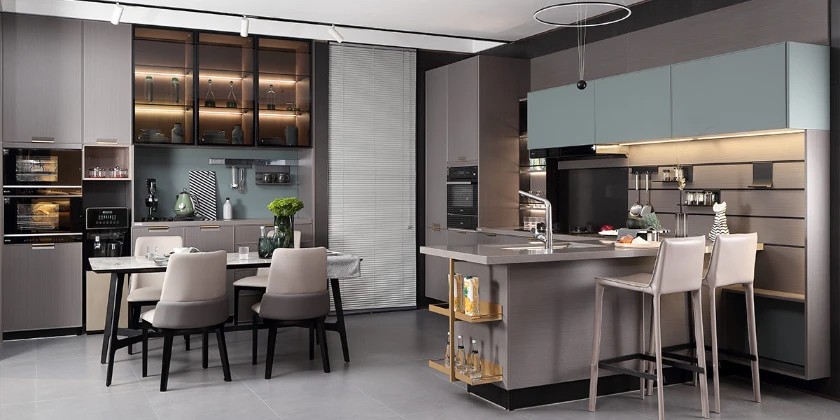 One trend that has gained popularity is the open-concept layout. This design eliminates walls to create a large space that combines the kitchen with the living or dining room. It promotes social interaction, makes the area more spacious, and allows natural light to flood the room.
Another trend is the incorporation of kitchen islands. These versatile features serve multiple purposes, from additional prep space to dining areas and storage. Island benches with bar stools have also become popular for informal dining and socializing.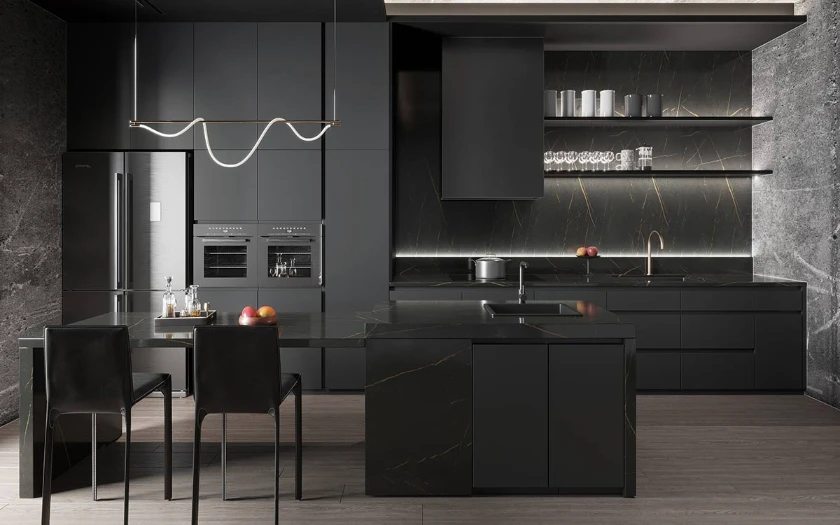 Smart kitchens, equipped with advanced appliances and gadgets, are also trending. These include Wi-Fi-enabled devices, touchless faucets, and energy-efficient appliances. They make cooking easier and contribute to a more sustainable lifestyle.
Open-Concept Kitchen Layout Ideas
Open-concept kitchens create a seamless flow between the kitchen and the living or dining room. They're perfect for those who love entertaining and want to keep the conversation going while cooking.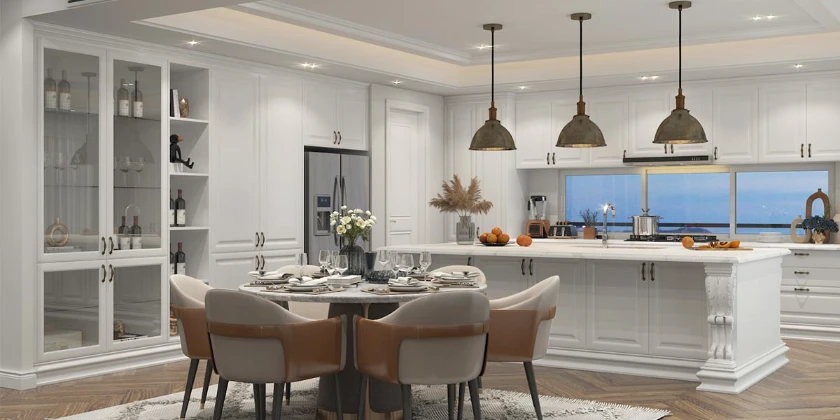 One idea is to use a large kitchen island or a breakfast bar as a natural divider between the kitchen and the living area. You can also play with different floor materials or ceiling designs to define the different zones subtly.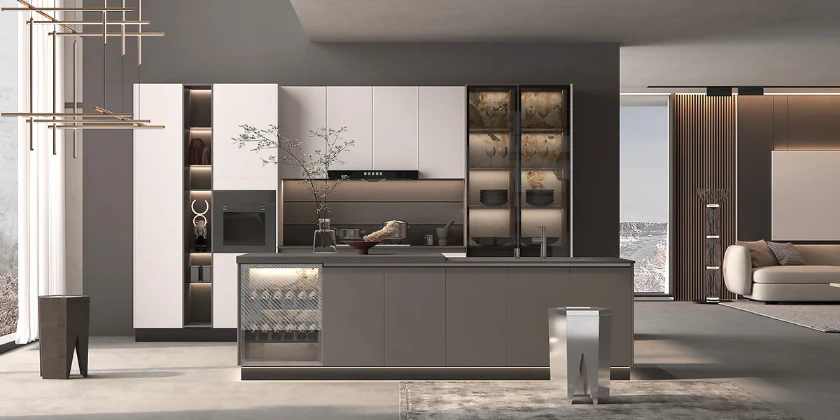 Another idea is maintaining a consistent color scheme or design theme throughout the space. This will enhance the sense of continuity and cohesion. However, don't be afraid to use contrasting colors or unique design elements in the kitchen area to give it its identity.
Lastly, consider incorporating open shelving or glass-front cabinets in your kitchen. These elements will keep the space open and airy, and they're also a great way to display your beautiful kitchenware or cookbooks.
L-Shaped Kitchen Layout Ideas
L-shaped kitchens are incredibly versatile and can work in small and large spaces. They consist of countertops on two adjacent walls, forming an "L" shape.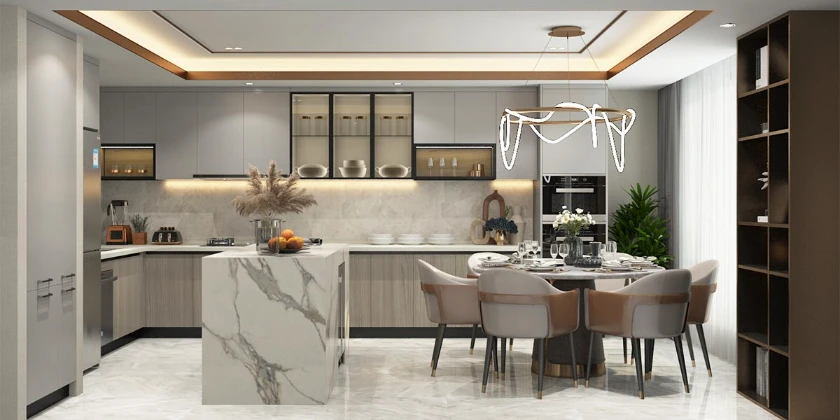 If you have a small kitchen, maximize your corner space with clever storage solutions like a lazy Susan or pull-out drawers. You could also opt for open shelving to keep the space open and spacious.
For larger kitchens, consider adding a kitchen island. This will provide additional prep space and function as a casual dining area. Ensure to maintain at least 42 inches of clearance around the island for easy movement.
One popular trend in L-shaped kitchens is the two-tone cabinet design. Use a different color or material for your upper and lower cabinets to create visual interest and break the monotony.
U-Shaped Kitchen Layout Ideas
U-shaped kitchens, also known as horseshoe kitchens, are characterized by three walls of cabinets and appliances. This kitchen layout is perfect for those who love to cook, providing ample storage and counter space.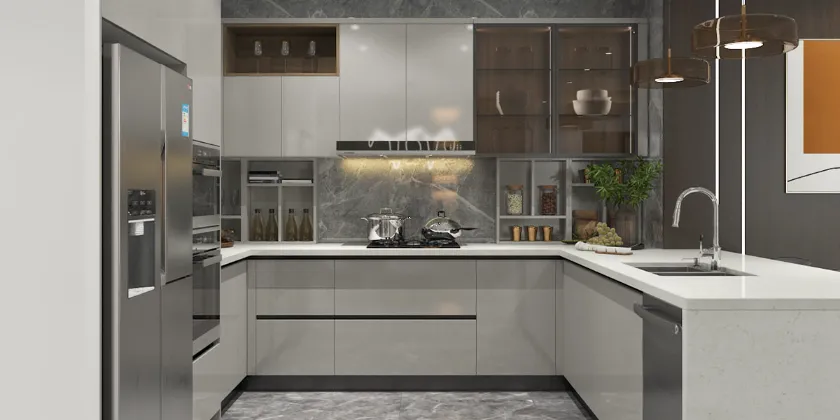 One way to modernize a U-shaped kitchen is by replacing one of the walls with a peninsula. This maintains a U-shape's abundant workspace and storage while opening up the kitchen to adjacent spaces.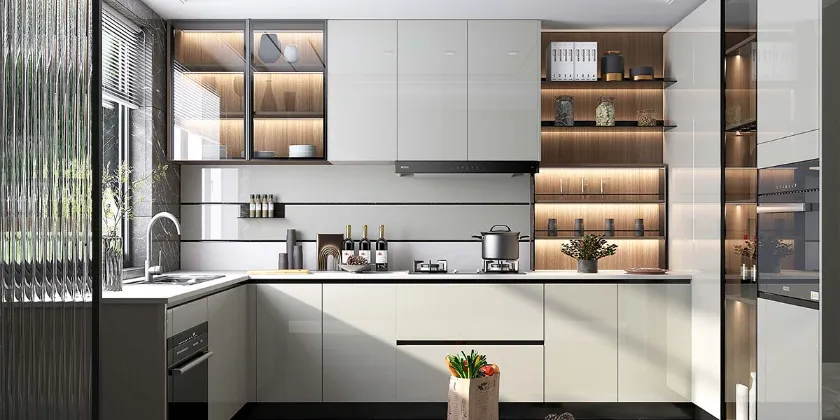 If your U-shaped kitchen feels cramped, consider incorporating open shelving. This reduces the bulkiness of upper cabinets and creates a more open and airy feel. You could also opt for lighter colors and reflective surfaces to enhance the sense of space.
To add a social element to your U-shaped kitchen, include a small seating area or breakfast bar on one side of the U. This can be a great spot for quick meals or guests to sit and chat while you cook.
Galley Kitchen Layout Ideas
With its efficient two-wall layout, a galley kitchen is a great space saver. Despite its compact size, a well-designed galley kitchen can be highly functional and stylish.
Consider incorporating open shelving or replacing upper cabinets with glass-front ones to prevent a galley kitchen from feeling closed in. These changes can make your kitchen feel larger and brighter.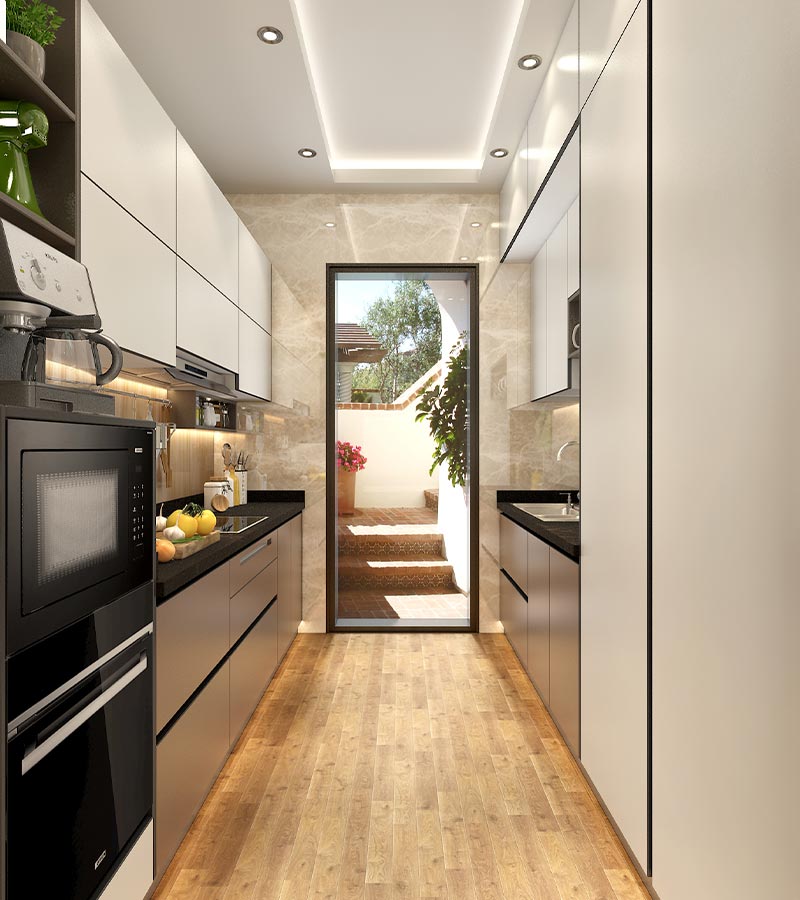 Another way to enhance a galley kitchen is by adding a pop of color or a bold backsplash. These elements can draw the eye and distract from the narrowness of the space.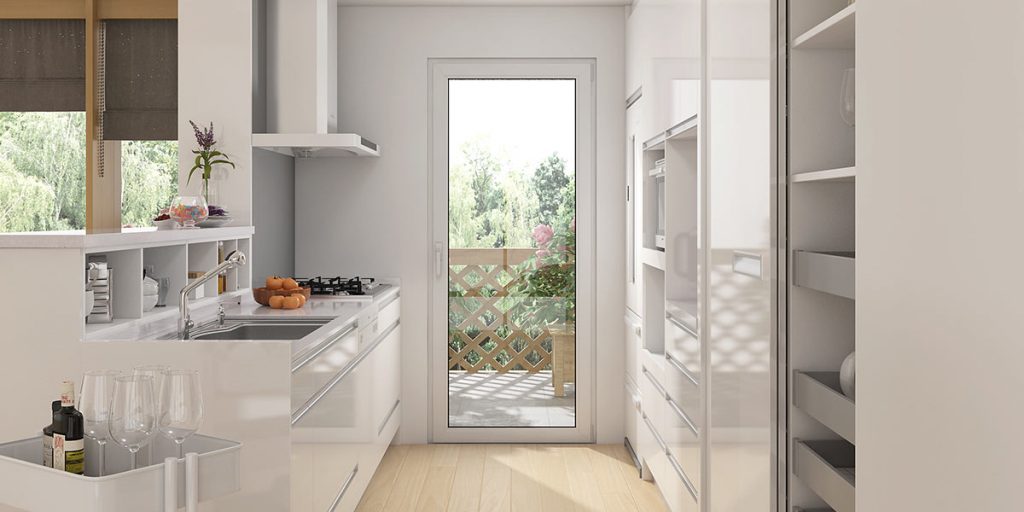 Try a minimalist design with sleek cabinets and simple hardware for a modern touch. Keep your countertops clutter-free, and opt for integrated appliances for a seamless look.
Island Kitchen Layout Ideas
A kitchen island can be a game-changer in terms of functionality and style. It provides additional workspace, storage, and seating and serves as a focal point in the kitchen.
For a modern take, consider a waterfall kitchen island, where the countertop material cascades down the sides to the floor. This sleek, stylish design is perfect for showcasing a beautiful countertop material.
Another trend is the dual-purpose island, which combines cooking and dining. One side can be fitted with a cooktop or sink, while the other can feature a breakfast bar.
A movable island or a butcher block on wheels can be a smart solution for smaller kitchens. You can move it around as needed and double as a serving cart when you entertain.
Tips for Optimizing Your Kitchen Layout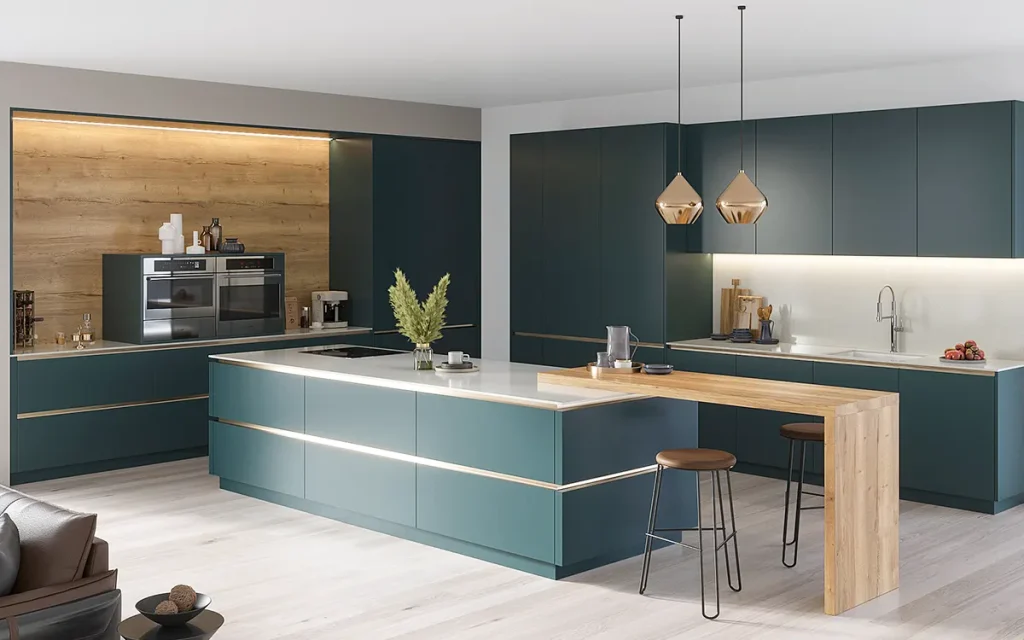 Designing a functional and aesthetically pleasing modern kitchen layout requires careful planning. Here are some tips to optimize your kitchen layout:
Follow the kitchen triangle rule: The sink, stove, and refrigerator should form a triangle for efficient movement between these key areas.
Ensure there's enough counter space: You'll need ample space for food preparation, especially near the stove and sink.
Consider your storage needs: Plan enough cabinets and drawers to store your cookware, appliances, and pantry items. A clutter-free kitchen is more enjoyable to use.
Think about lighting: Good lighting is essential in a kitchen. In addition to overhead lighting, consider task lighting over the stove, sink, and countertops.
Budget-Friendly Kitchen Renovation Ideas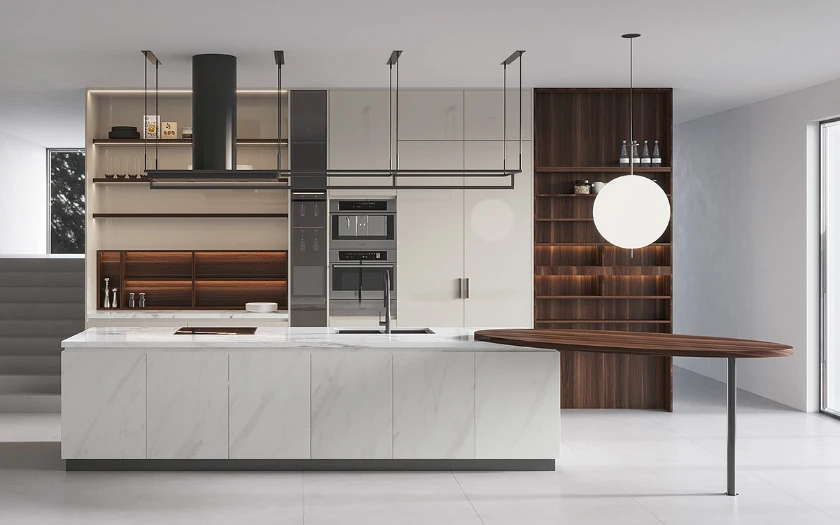 Revamping your kitchen doesn't have to break the bank. Here are some budget-friendly kitchen renovation ideas without changing kitchen layouts:
Paint your cabinets: A fresh and quality coat of paint can completely transform your kitchen. Choose a modern color like navy blue, dark green, or two-toned cabinets.
Change your hardware: Updating your cabinet handles or drawer pulls can make a big difference. Choose a sleek, modern design for an instant upgrade.
Install a DIY backsplash: A new backsplash can add color and personality to your kitchen. Consider peel-and-stick tiles for an easy and affordable solution.
Add storage solutions: Instead of investing in new cabinets, consider adding open shelves, hanging pot racks, or a pegboard wall for extra storage.
Conclusion: Transform Your Kitchen with a Modern Layout
In conclusion, a well-designed modern kitchen layout is key to a functional and beautiful kitchen. Whether you prefer an open-concept, L-shaped, U-shaped galley, or island kitchen, there are countless ways to inject modern style into your space. Proper planning and creativity can transform your kitchen into a functional and inviting space for cooking, living, and entertaining. So why wait? Start planning your kitchen revamp today!
Fill in to Download Catalogues