Many people think of their bathroom as a space that is too small to do much with. It's often used only for showering and toileting, and some people might even consider it an afterthought in the home design process. However, bathrooms don't have to be barren rooms that lack personality! There are many ways that you can make your bathroom look bigger to improve the functionality and visual appeal of your home.
Bathroom Cabinet Designs
One of the first things you should do is give some thought to how to use storage spaces in your bathroom so that everything has a place, but doesn't crowd other items out. Bathroom cabinets are one option for this—a simple shelf unit can hold your toiletries, while a tall tower of cabinets on the other side of the room could be used for towels and linens. You can also consider including drawers or even built-in cupboards that are sized just right for things like shampoo bottles, cosmetics, and cleaning supplies.
Hanging Cabinets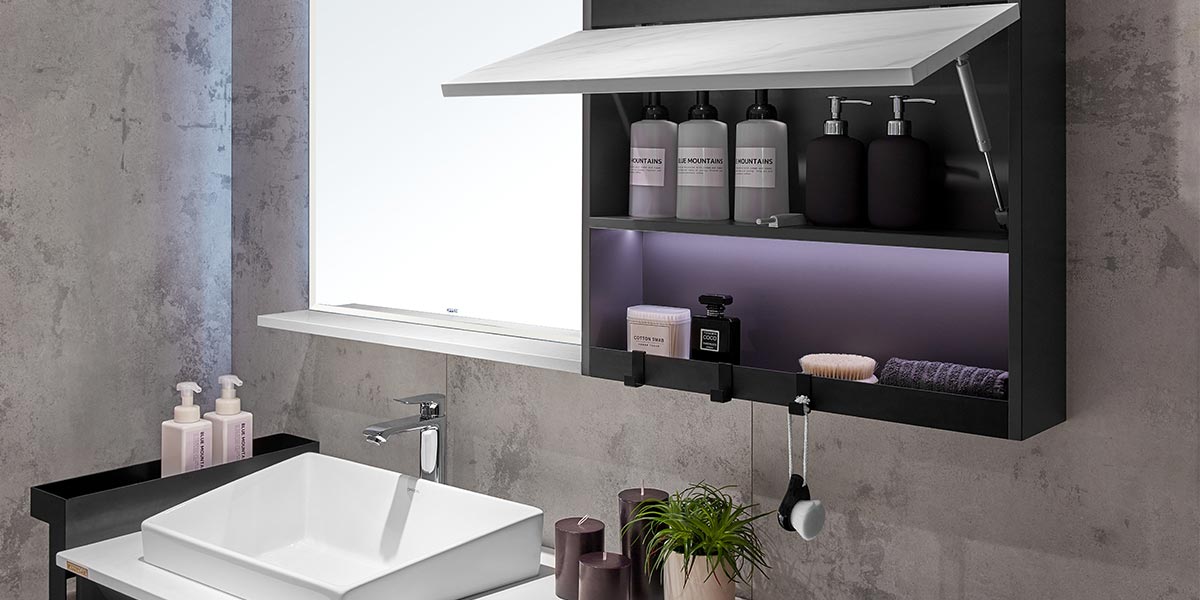 For those people who prefer an uncluttered look in their bathroom but still want to store all their essentials within easy reach, hanging cabinets with swing doors offer a way to do this without making it feel as though you're living inside a medicine cabinet. Some models have two swing-out sections, allowing you to choose which items should be quickly accessible and which could use a little more protection from moisture and dust.
Hanging Mirrors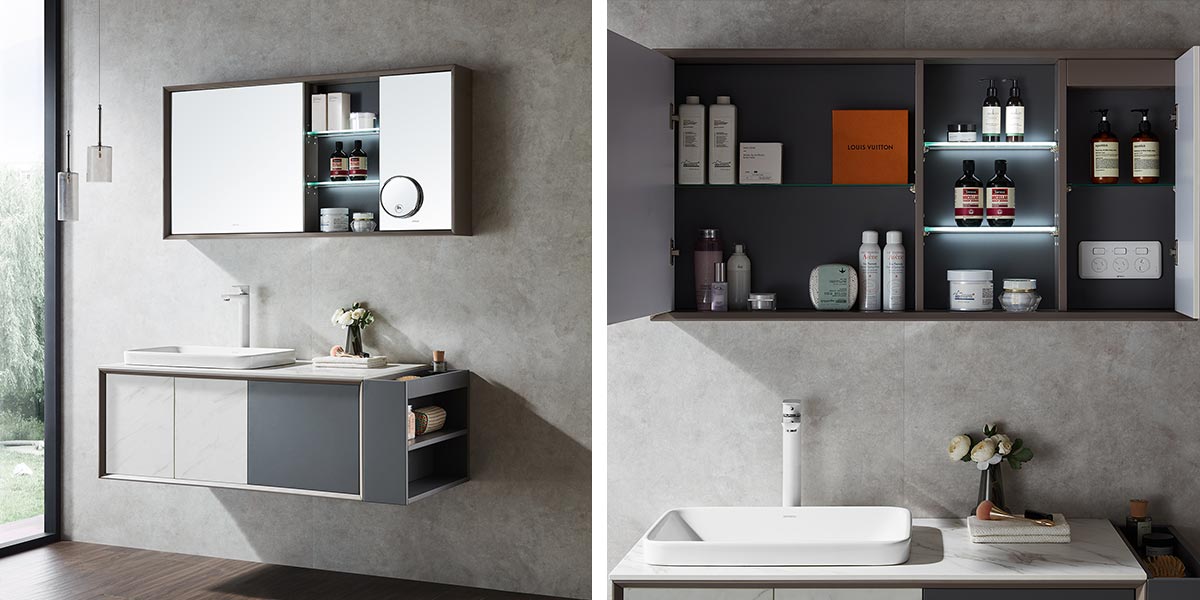 Hanging mirrors offer another ingenious storage solution, especially for people who use a lot of makeup and beauty products. You can place one or more on the wall beside your cabinet, creating a vanity-like countertop that has everything you need within easy reach. This is not only a space-saving technique, but it also makes a bathroom look bigger since there will be an open area beneath them—a perfect spot to put a votive candle or potted plant!
Drawers over Doors
Choose drawers over doors since they allow you to show off decorative towels and other stylish accessories without compromising too much storage space.Buy mirrored fronts—or at least those with clear glass panels—to maximize the amount of natural light inside your cabinets.
Maximum efficiency is key for any small bathroom, so double up on storage space by using shelves or drawers—you can even buy double-decker versions to gain even more storage space! Opt for simple sink designs without too many curves or other decorative details since they'll consume less room than those with ornate borders.
Faucets & Lighting
In addition to cabinet space, lighting and water faucets are two other key elements that can help you create the illusion of extra room in any sized bathroom. In most cases, recessed lights installed directly into the ceiling offer bright illumination with limited surface space. However, if you have more room to work with, wall-mounted lights offer a good alternative. They also help to open up a room visually by allowing you to place a mirror or other decorative object beneath them.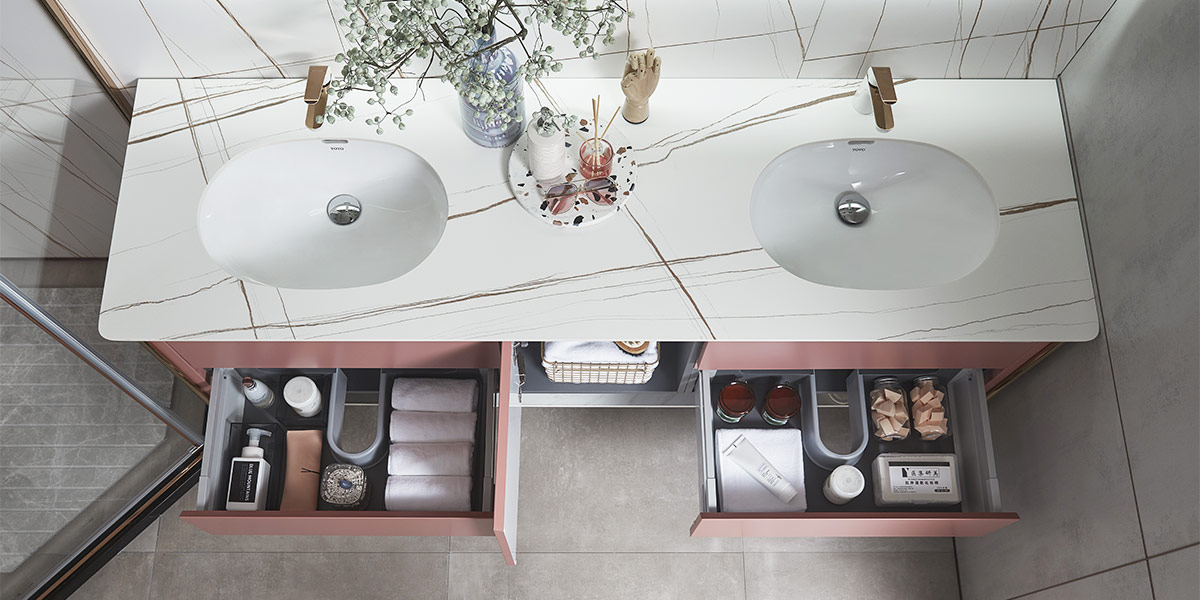 As far as the water faucets go, more is definitely better! In particular, opting for double or triple sinks can have an impressive effect on making your bathroom feel more spacious. This not only saves time when grooming and getting ready in the morning, but it's also another way to create a sense of space since having multiple similar cabinets reinforces the feeling that they're part of an integrated design plan.
Add Long Mirrors
Another element that will make any size bathroom seem larger is by adding long mirrors or framed pictures to its walls—in some cases; you can even get away with using both. If you have a window in your bathroom, hang some blinds or curtains to draw the eye, especially if they're made of shiny material that will reflect natural light.
Neutral Colors
You should also consider painting your walls a lighter color since it reflects more light and creates an illusion of depth and volume—most experts recommend using either white or off-white. If you have tiles on your floor, consider painting them a light color as well so that the area feels more open, allowing you to take full advantage of any natural lighting.
Choosing Bigger Shower Curtains
One simple solution for making your bathroom feel larger is choosing bigger shower curtains. In many cases, a standard-size shower curtain measures around 72 inches by 70 inches, but you can upgrade to one that's as much as 84 or even 96 inches long. If you have the extra space available in your bathroom, try creating a sense of drama by using a floor-length shower curtain instead of one that covers just the inside portion of your tub.
Choosing Smaller Towels
Another simple way to make any size bathroom feel larger is by downsizing your towels. Most people tend to opt for bath sheets and oversized hand towels because they think they'll need more drying space after a hot shower or bath—but this isn't necessary! The truth is most people only require a standard bath towel measuring 30″ x 55″ to get the job done. Instead of wasting a lot of valuable cabinet space, consider buying a smaller towel that will dry you off quickly and then be out of sight when not in use.
Conclusion
There are so many other ways in which you can make your bathroom space look bigger. The final goal is to avoid clutter and to make the space look nice and clean at all times. Cabinets will help you put everything away and only take them out when you need to use them. Check out our website for some inspiration on bathroom cabinets.
Fill in to Download Catalogues