Japandi kitchen design has steadily been gaining popularity in the decor scene. But what exactly does it entail? How can you achieve it?
Come along and let's find out.
What Is a Japandi Kitchen?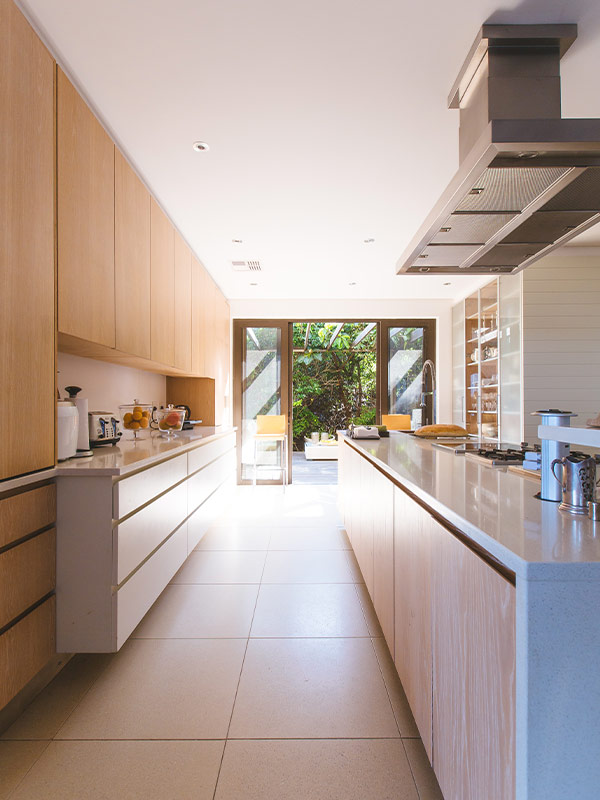 A Japandi kitchen is a decor style that merges Japanese and Scandinavian kitchen decor styles. It is iconic because it pairs the best aspects of their core principles; Wabi Sabi and Hygge.
The Wabi Sabi (Japanese) principle encourages design ideas that are functional and calm without prioritizing perfection. Meanwhile, Hygge (Scandinavian) focuses on minimalism, functionality, and has a more modern feel.
Therefore, when both ideas are well-merged, they create a lovely balance for anyone that may find Japanese kitchens too traditional or Scandinavian kitchens too minimalist.
Benefits of Japandi Kitchen Design
Installing a Japandi design kitchen could improve your home and lifestyle as it brings:
Functionality and Charm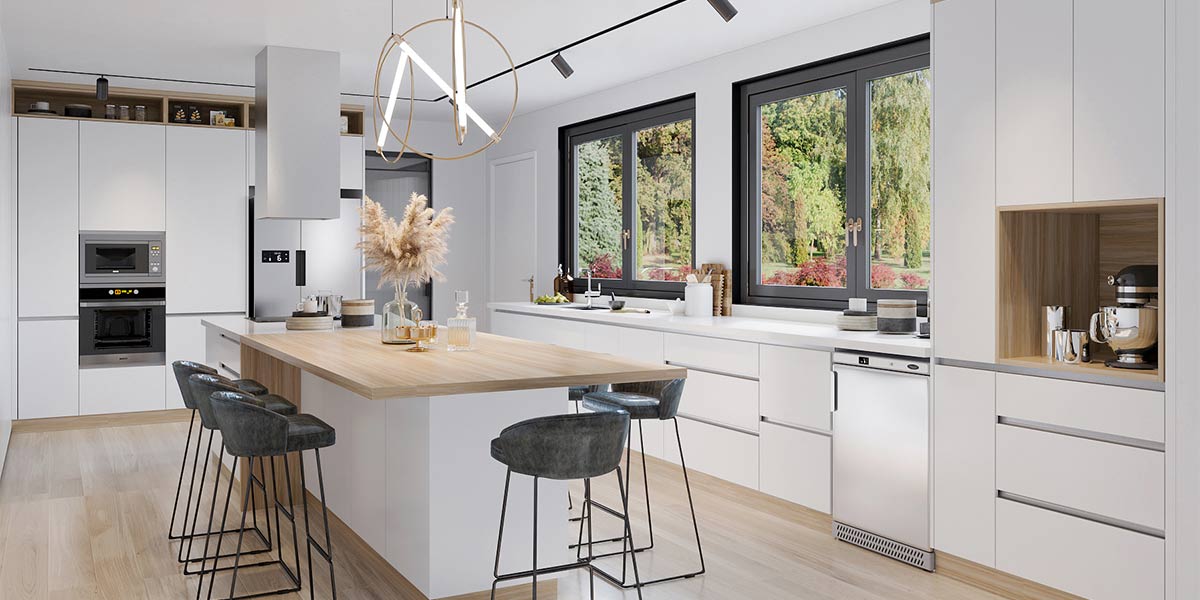 Scandinavian kitchen designs are renowned for their high-end functionality. Everything from their layouts, use of light, and high-utility kitchen cabinets seeks to make the space easy to use and free of clutter.
However, this approach can sometimes make Scandi kitchens look almost clinical. So, pairing such functionality with the more homely accents of Japanese kitchen design creates a Japandi kitchen that is efficient yet very welcoming.
Distinct Decor and Creative Freedom
Blending two distinct types of kitchen decor, as is the case with the Japandi design, creates a very unique look. More so because no two designers or brands may implement this kitchen style in the same way.
You could use Japanese-themed furniture, for example, to balance out the clean lines of Scandinavian decor. Alternatively, you could introduce color by adding houseplants instead of colored backsplashes. The options are simply endless.
Eco-friendly Design
Japandi kitchen design embraces the use of sustainable materials like bamboo which is quite common in Japanese decor. This is great for the environment but also offers you great value for money because bamboo is durable and makes very sturdy furniture.
Flexibility
The minimalist decor details of a Japandi-style kitchen leave lots of room for future changes or improvements. You can always play around with the color palette, introduce more texture, or update the cabinets after a while to keep things fresh.
Tips on Creating a Japandi Kitchen
Now that we know what a Japandi kitchen entails, let's look into some tips on how to create the best one.
Create Your Own Balance
Japandi kitchen design merges two cultures and decor styles. Therefore, it is essential to explore different examples and learn how you would like to balance them out.
In essence, identify what you like about Japanese kitchens as well as Scandinavian kitchens then find a harmonious way to prioritize and incorporate them.
Prioritize Order
A blended kitchen design like Japandi is ideal because it allows you to add a diverse range of decor aspects.
However, it is vital to still aim for a clean uncluttered look. Too many decorative additions may drown out the appeal and essential calm orderly nature of Japandi design.
Aim for High Finishes
Japandi kitchen designs feature natural, almost rustic elements.
While you can make compromises to suit your budget, strive for high-quality installations and finishes. The design only truly comes to life if the cabinets, wooden accents, textures, and countertops are of great quality and neatly installed.
Some Ideas for a Japandi Kitchen
When you get to choosing a Japandi kitchen design or customizing one for your home, here are some ideas worth exploring.
Texture Adds Character
Japanese decor features lots of texture that provides a simple yet interesting look. You may, for example, notice it in items like woven bamboo stools or the use of unvarnished wood.
This can be a great way to accentuate your Japandi kitchen design as it creates a cheerful contrast against the refined feel of the Scandinavian style.
Maximize the Space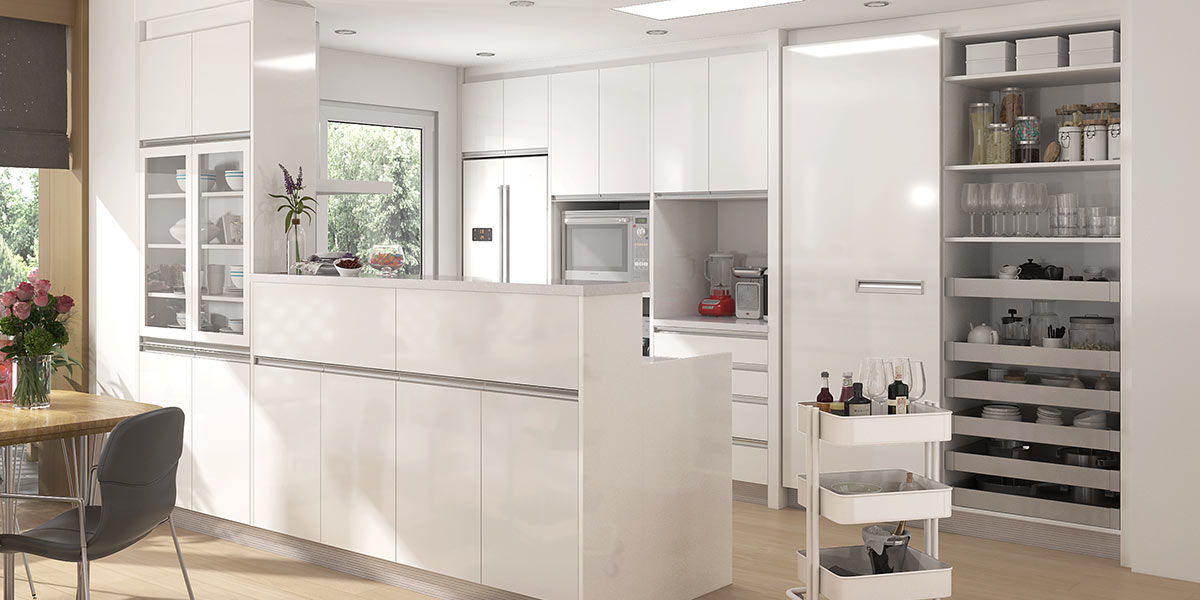 A Japandi kitchen design can work well in small or large spaces. The layout just needs to use the space efficiently to bring out the concept as it should be.
For example, if you have adequate kitchen space, you can have as much storage as you need and perhaps even a dining area.
On the other hand, if your space is limited, it would be prudent to only have as many kitchen cabinets as the space can comfortably hold and an equally proportionate kitchen island.
Choose Suitable Colors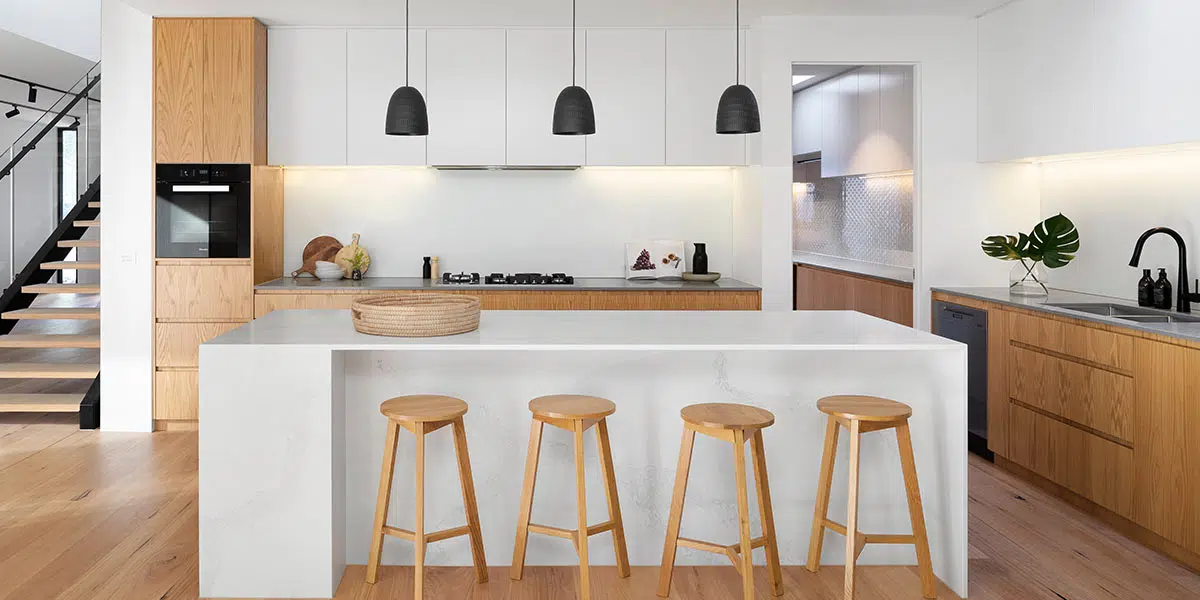 Japandi kitchen designs do well with subtle primary colors like white, earthy wood tones, gray, yellow, and similar shades. You can, nevertheless, add a burst of color (if you prefer) through other accents like greenery, backsplashes, light fixtures, or furniture.
Try Innovative Minimalism
A true minimalist look may be a lofty goal for a highly active household. However, it is not impossible to achieve. You only need to explore innovative solutions such as:
Adequate yet receding storage where you can easily put items away and avoid clutter.
Using decorative pieces, like wicker baskets, which can also double up as storage for toys and other random items.
Choosing an open layout so that activities can spread out to other living areas to avoid everything being centred in the kitchen.
Make It Cool
The simplicity of Japandi kitchen design ideas can make it seem like you should tone everything down. Try not to. You can add some cool and fun touches that elevate your experience in the kitchen such as:
Cool gadgets, like smart appliances, that automate your kitchen in a fun yet functional way.
Motion-sensor or recessed lighting, in or under your cabinets.
Contrasting kitchen cabinet materials like glass and wood.
In Conclusion
Few designs can claim to have as much charm and sophistication as a Japandi kitchen design. Installing one could just be the breath of fresh air that your home needs.
Worried about getting the Japandi design right? Don't be. We will provide the custom kitchen solutions and expert support you need. Contact us to learn more.
Fill in to Download Catalogues