This contemporary home design is a perfect embodiment of minimalism and sophistication. The interior is characterized by a humble color scheme, featuring soothing tones of light wheat, white, light grey, blue-grey, and clay. These colors have been carefully selected to create a calming atmosphere throughout the house.
Contemporary Home Design – Entrance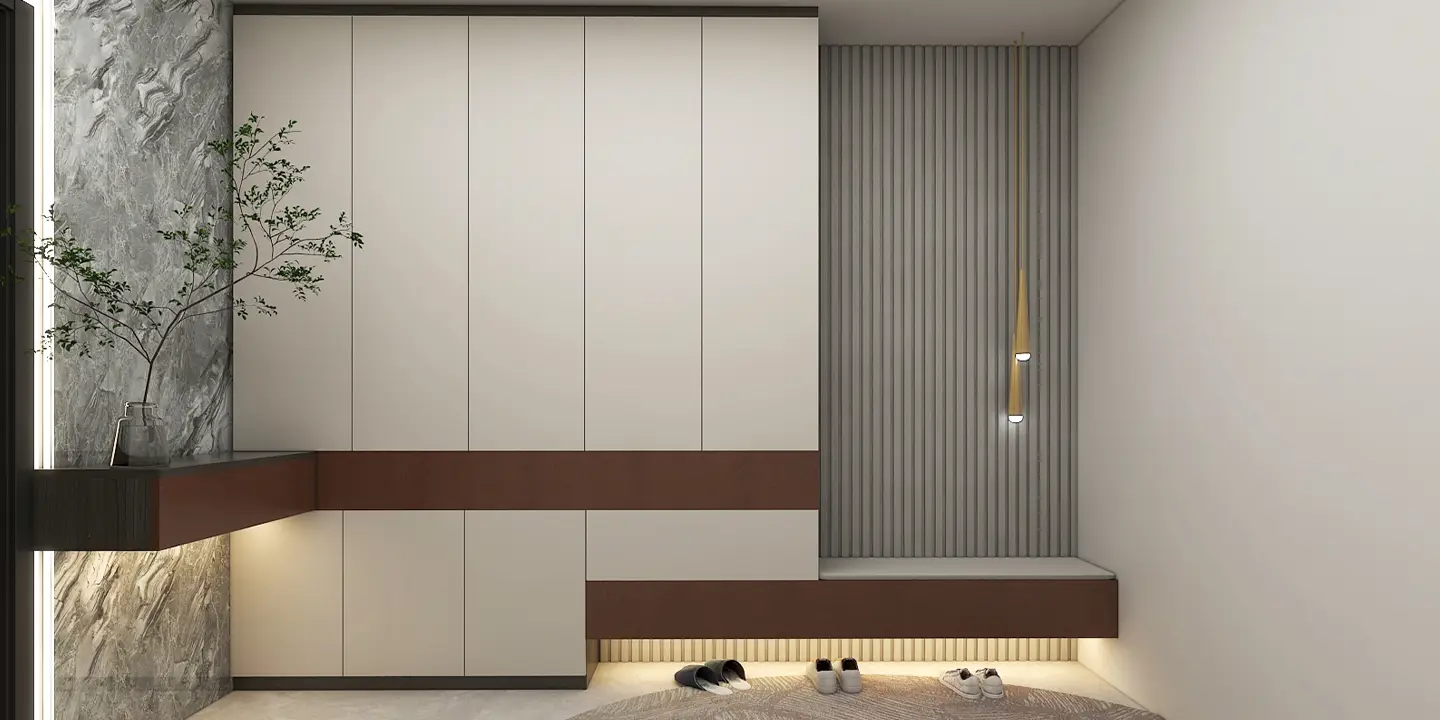 The design boasts full-house custom joinery, a unique element that enhances its aesthetic appeal. As you enter, you are welcomed by chic entrance cabinets that set the tone for the rest of the home.
Hallway Storage Cabinets
Contemporary Home Design – Living Room, Dining Room and Kitchen
The living room features a well-crafted TV cabinet, while the dining area is adorned with elegantly designed cabinets and tables. The kitchen is a blend of practicality and style, with custom cabinets providing ample storage space.
Custom TV cabinets and Storage Cabinets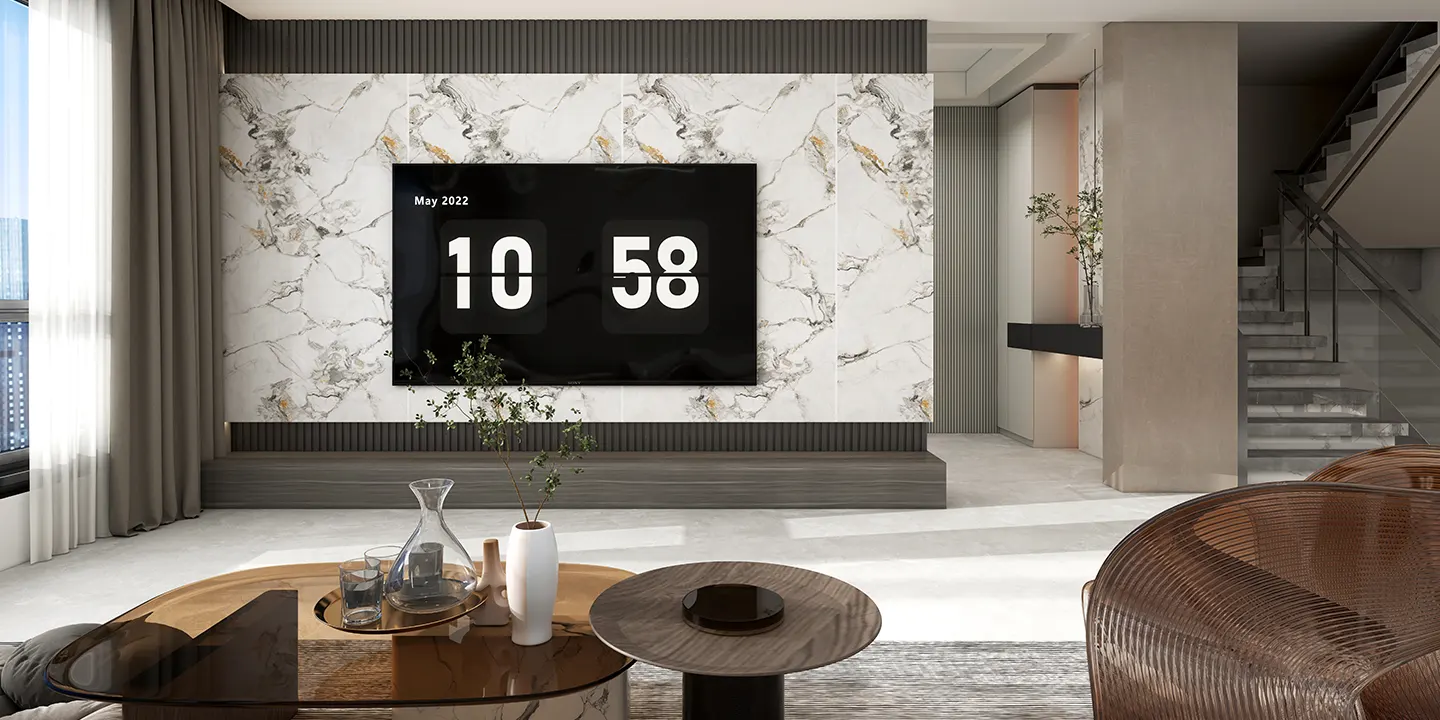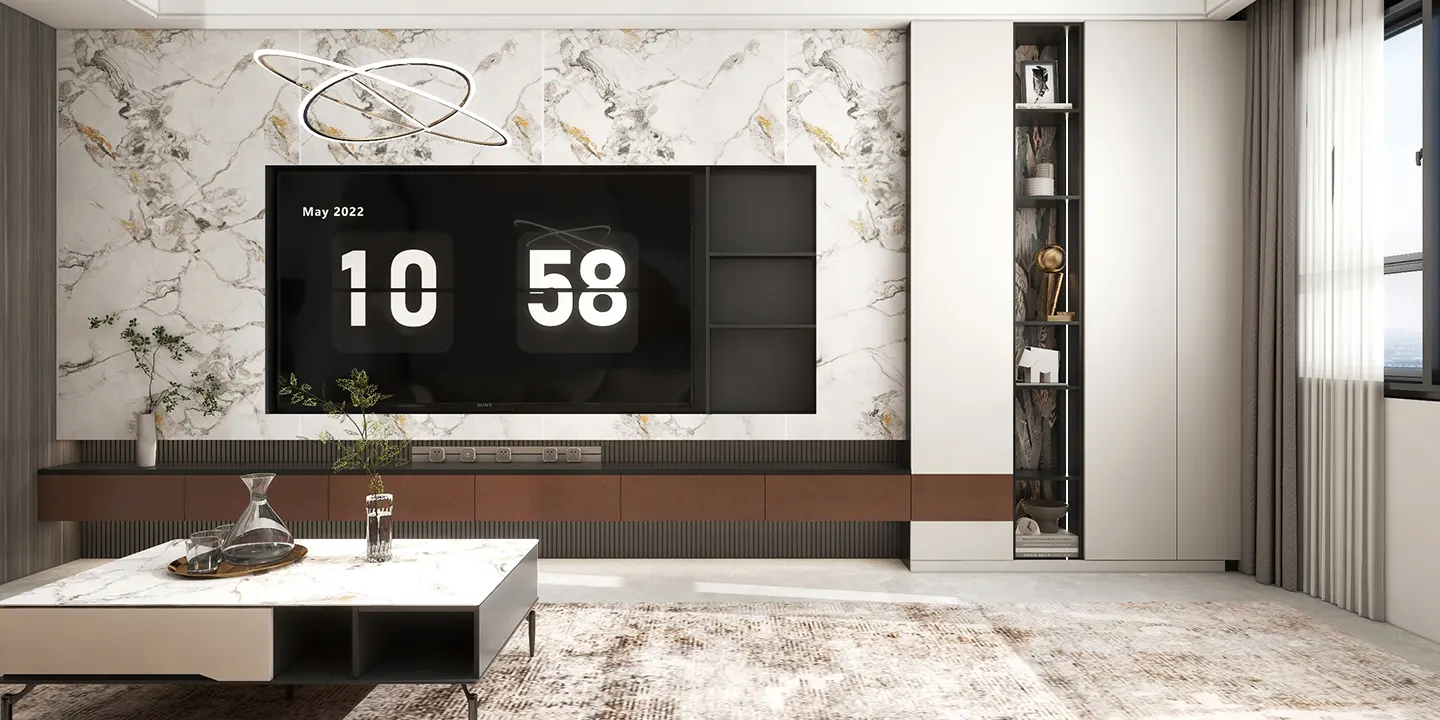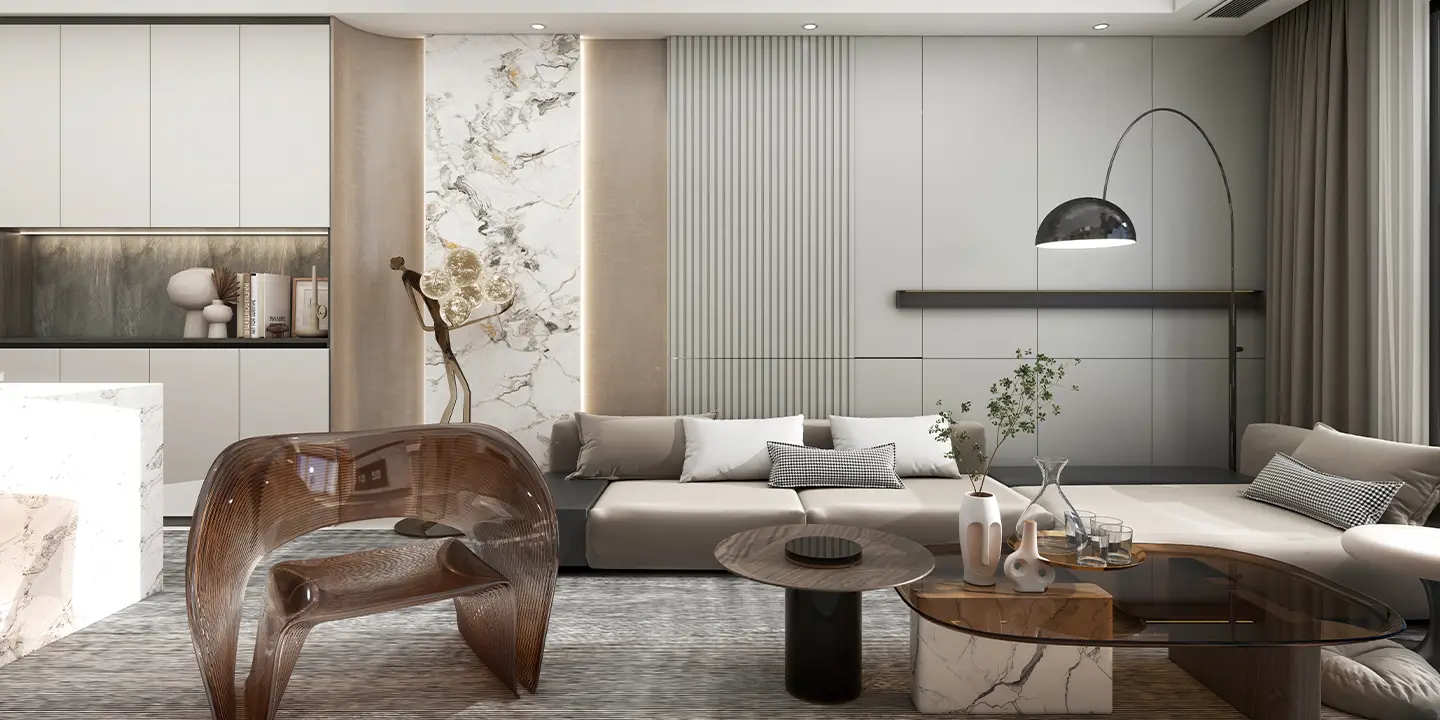 Dining Room Cabinets and Long Table
Upon entering this well-appointed dining room, your gaze is immediately drawn to the impressive one-wall layout of dining cabinets. These structures, reaching up to the ceiling, are enveloped in a matte white lacquer finish, their minimalist design exuding a sense of modern elegance. The sophistication continues with the dining table, a unique piece designed to be reminiscent of a kitchen island.
The table features clay-tone storage cabinets on one side, boasting a waterfall countertop that cascades down with a touch of luxury. The pure white countertop is adorned with beautiful grey veins, adding an understated visual interest to the space. This detail cleverly mirrors the matte white cabinets, fostering a sense of cohesion within the room.
On the other side of the island-like table, a long dark wood section provides a stark contrast, adding depth and warmth to the overall design. This innovative blend of materials and colors creates an inviting ambiance, perfect for sharing meals and making memories. The result is a dining room that marries functionality with style, a testament to thoughtful design and careful attention to detail.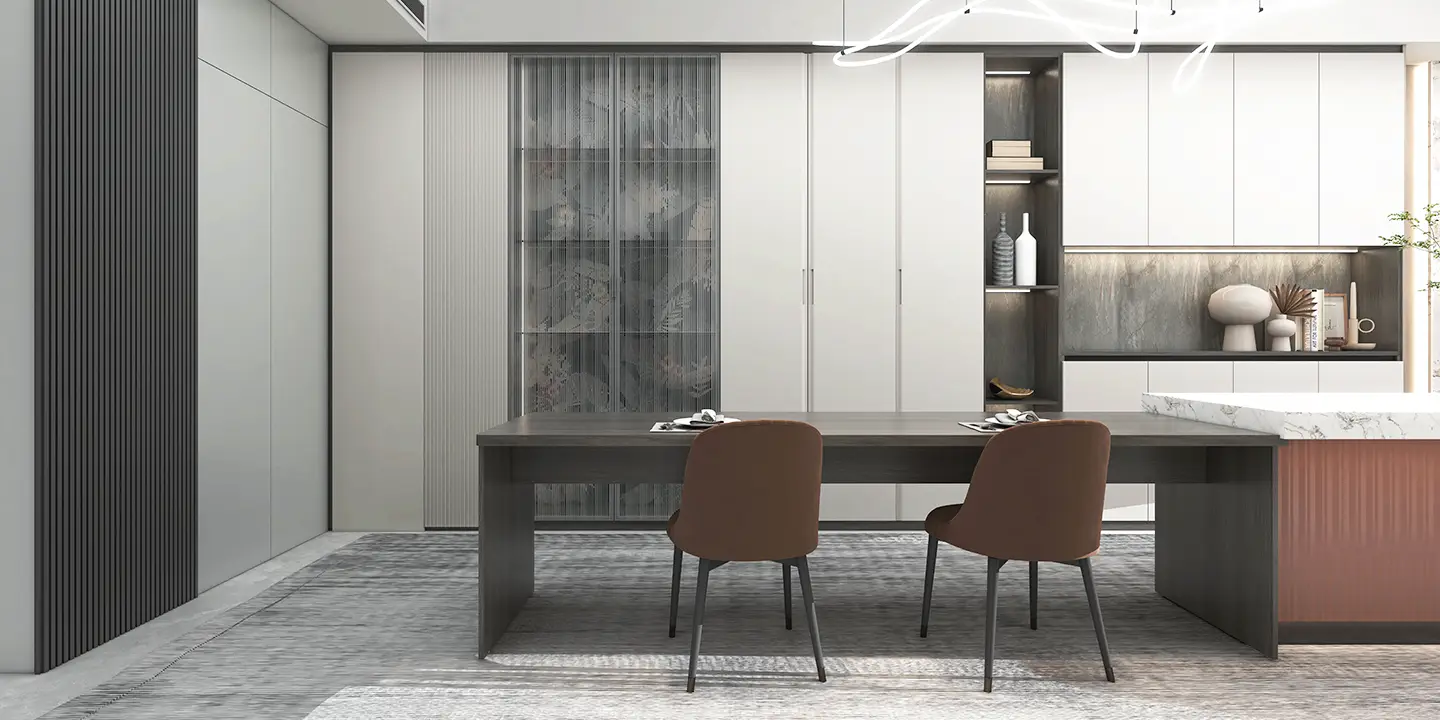 Modern White and Red Kitchen Design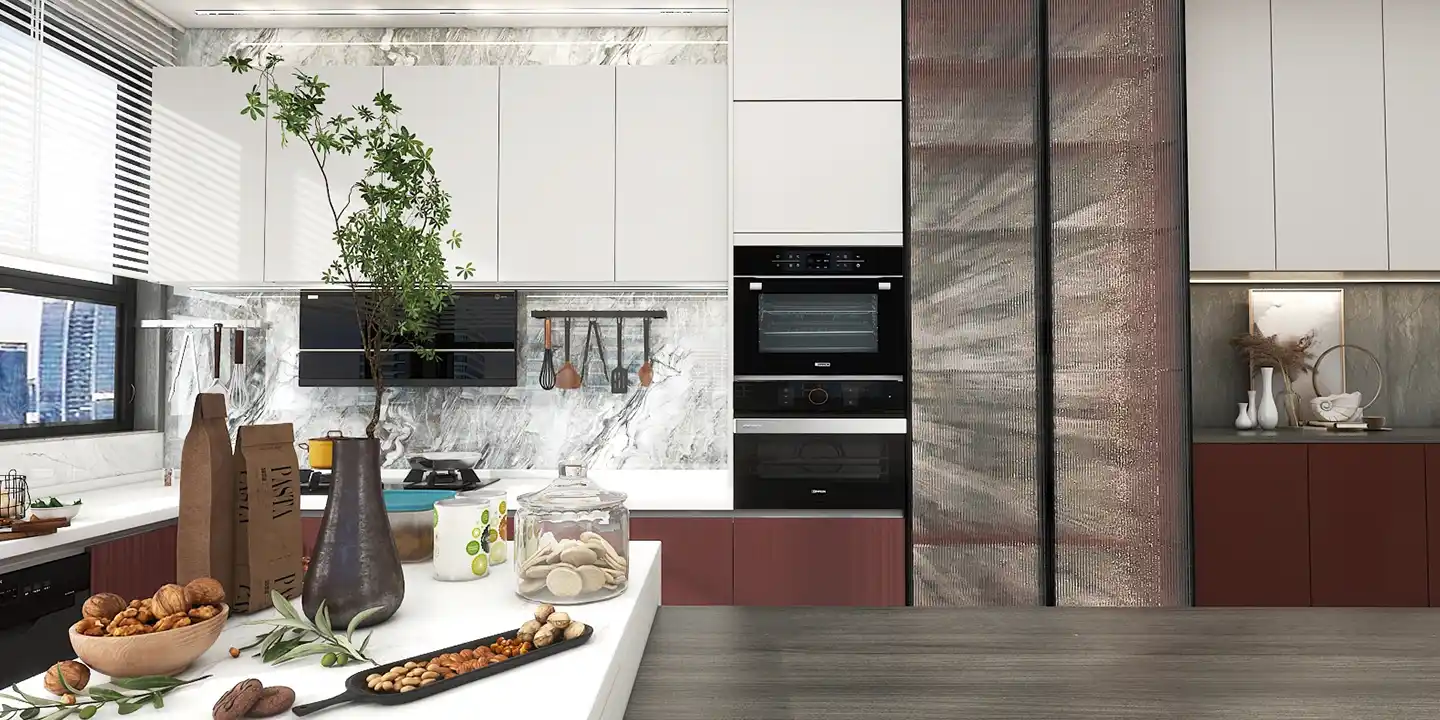 Contemporary Home Design – Bedrooms, Offices and Bathroom
Each bedroom comes with custom wardrobes, bringing a sense of harmony and continuity to the design. The home office has bespoke cabinets, ensuring an organized and conducive work environment. The bathroom vanities, designed with the same attention to detail, add to the home's contemporary feel. This home design is a testament to the power of color harmony and thoughtful design in creating a calming and sophisticated living space.
White L shaped bedroom wardrobe with grey stained desk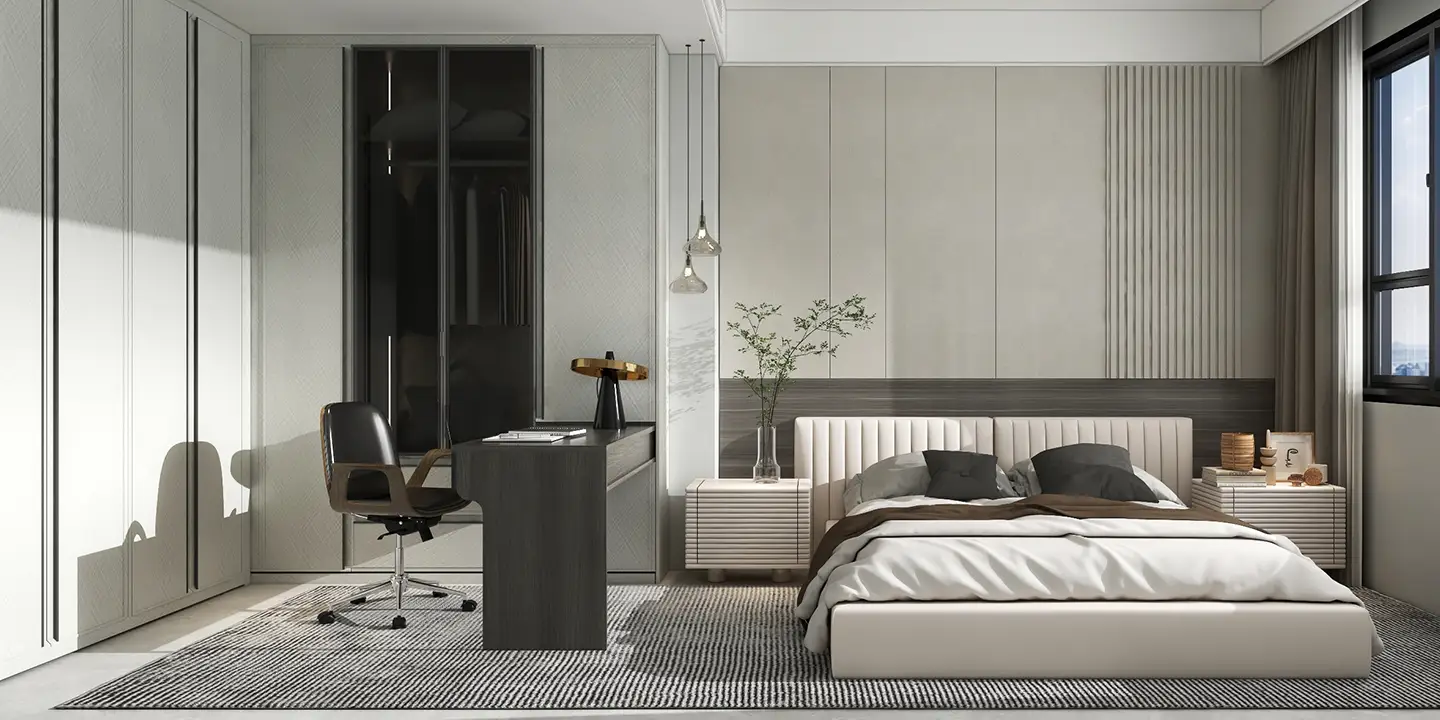 The white L-shaped bedroom wardrobe is a masterful blend of style and functionality. Crafted from high-quality materials, its matte white finish radiates an air of modern sophistication, complementing the contemporary aesthetics of any bedroom. The wardrobe's L-shaped design optimizes storage, offering ample space for clothes and accessories while maintaining a sleek, uncluttered profile.
Attached to the wardrobe is a grey-stained desk, the color imbuing a pleasing contrast to the wardrobe's pristine white. Its smooth and inviting surface makes for an ideal workspace or vanity area. The desk's understated color scheme and minimalist design create a harmonious balance with the wardrobe, making the entire ensemble a visual treat. Fusing these two elements results in an efficient design solution that fulfills both storage and work needs, beautifully encapsulating the essence of contemporary home design.
Modern Luxury Master Bedroom Design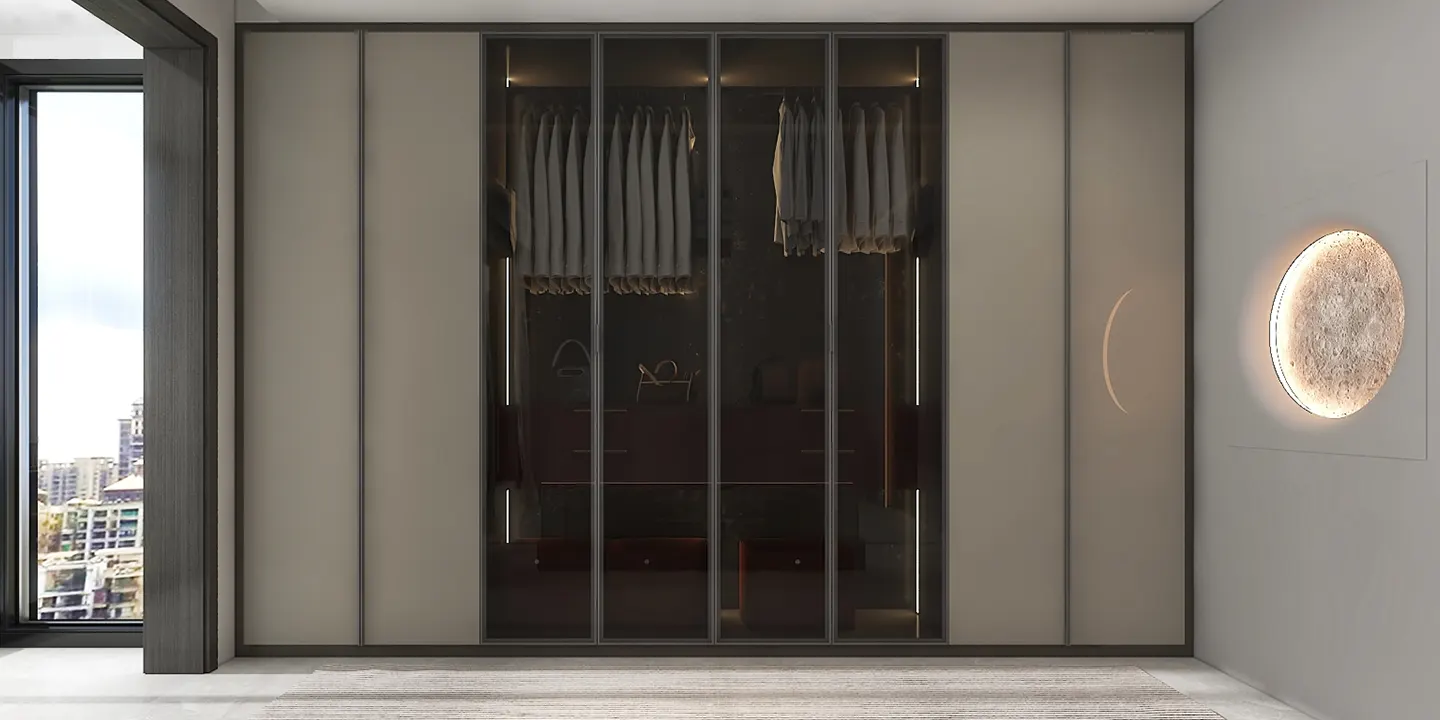 Modern Bedroom Design with Home Office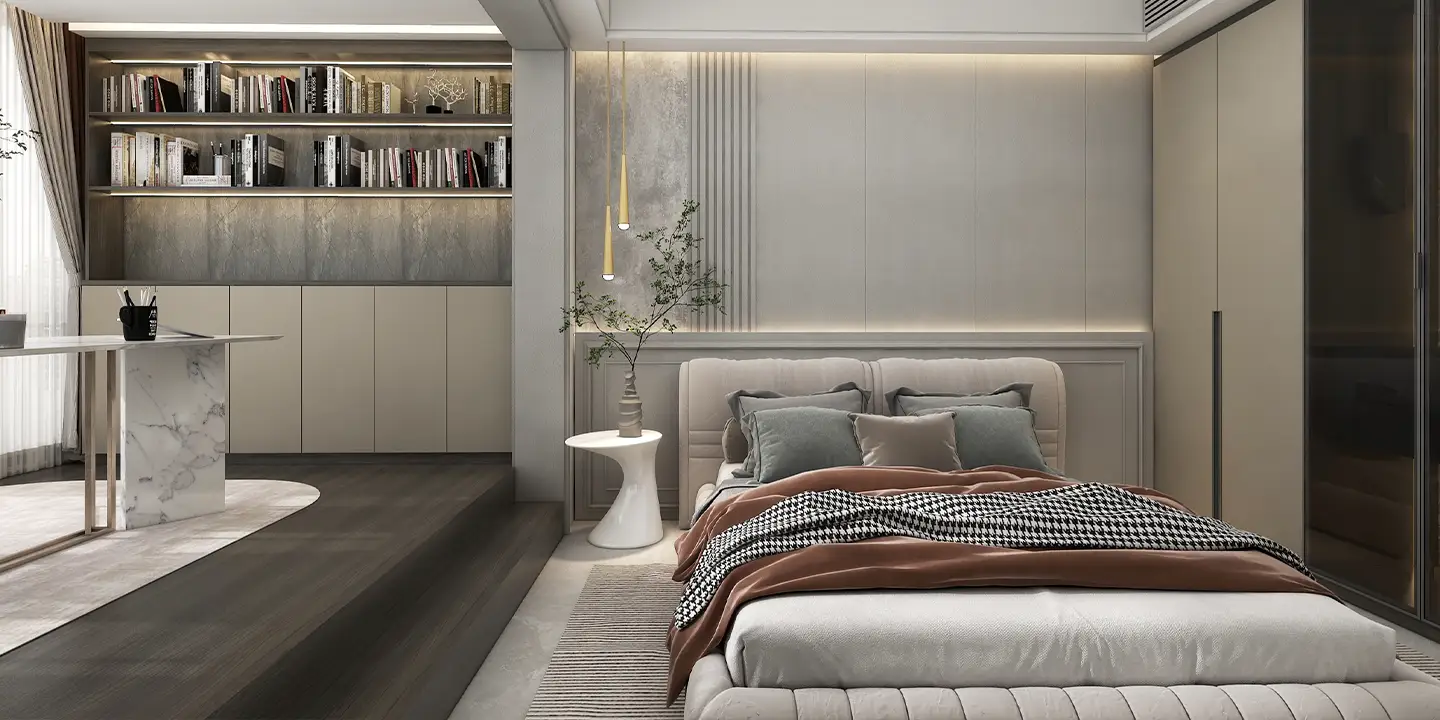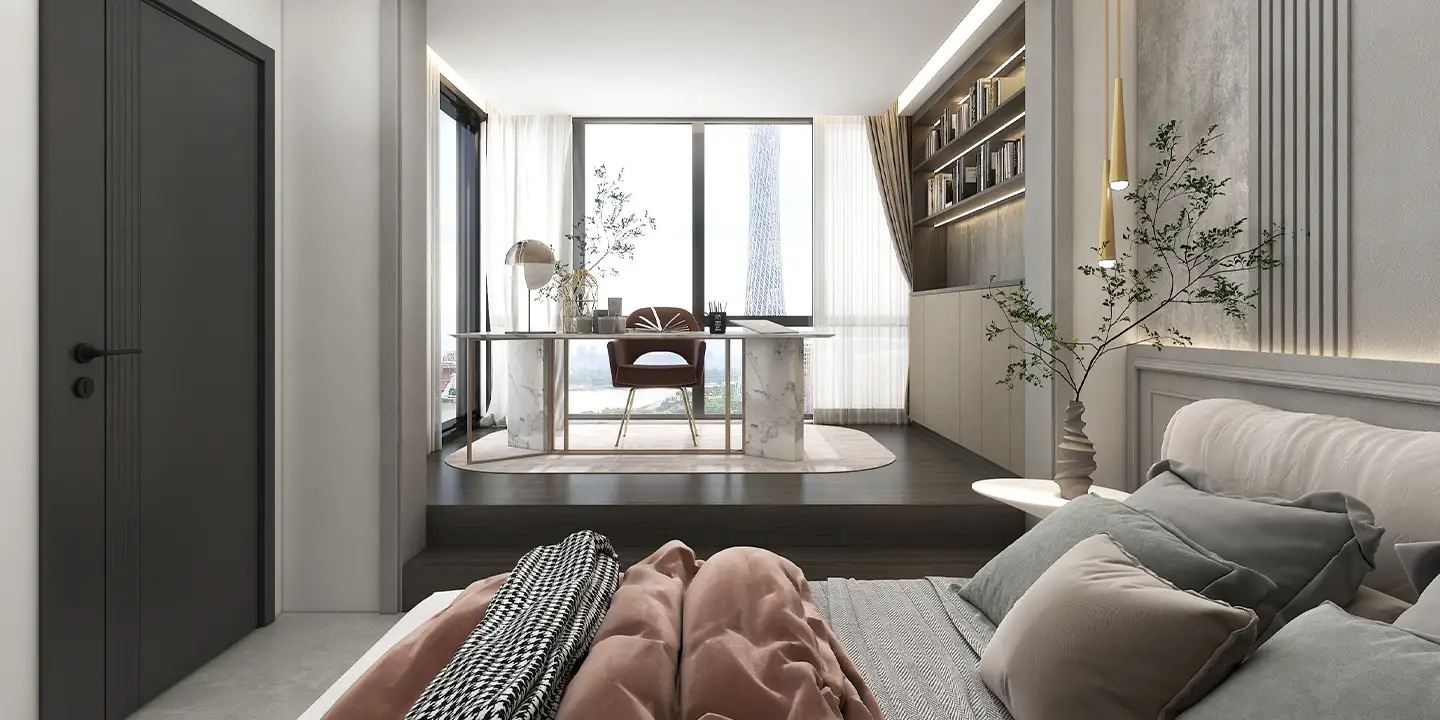 Light grey and green bedroom design
Other Bedrooms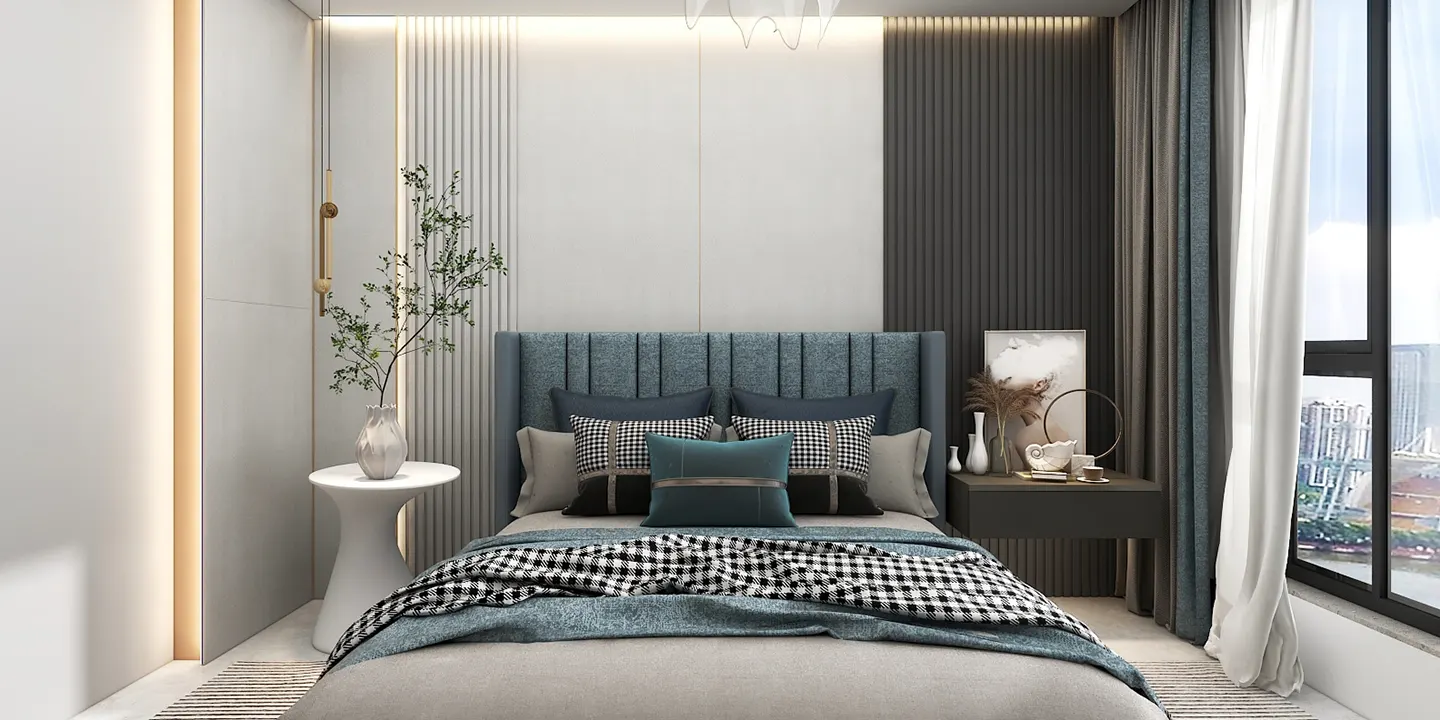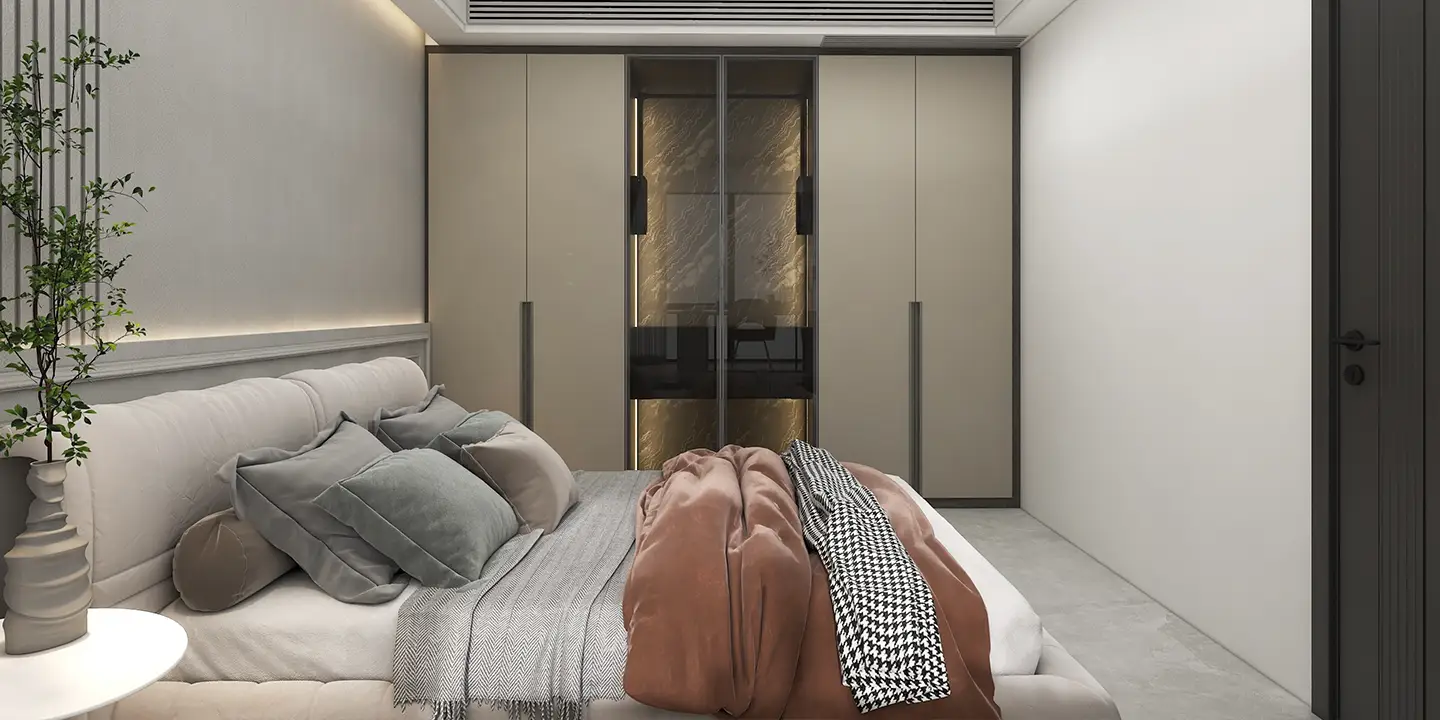 Modern Luxury Home Office Design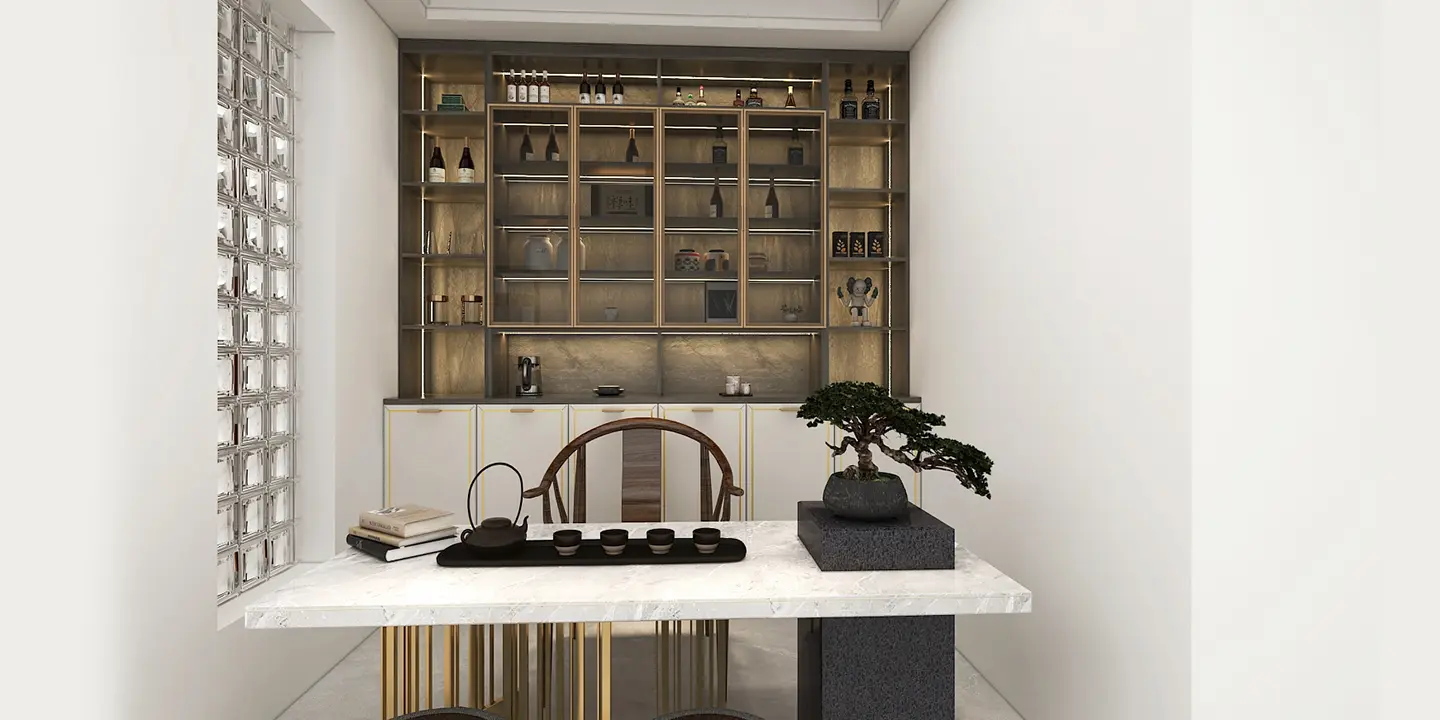 Matte Off White and Blue-Grey Fitted Floating Bathroom Vanity
The matte off-white and blue-grey fitted floating bathroom vanity exudes a sense of contemporary elegance. With its soft matte finish, the off-white hue provides a serene backdrop that contrasts beautifully with the rich blue-grey undertones. The vanity is fitted seamlessly to the wall, giving it a floating appearance that adds a touch of modernity and spaciousness. It features streamlined cabinetry with ample storage space, offering a perfect blend of functionality and aesthetics. The refined design and the understated color palette transform the bathroom into a tranquil and sophisticated sanctuary. The vanity, with its clean lines and minimalist appeal, is a testament to contemporary home design's beauty.