Grey Stained Kitchen Cabinets with Copper Island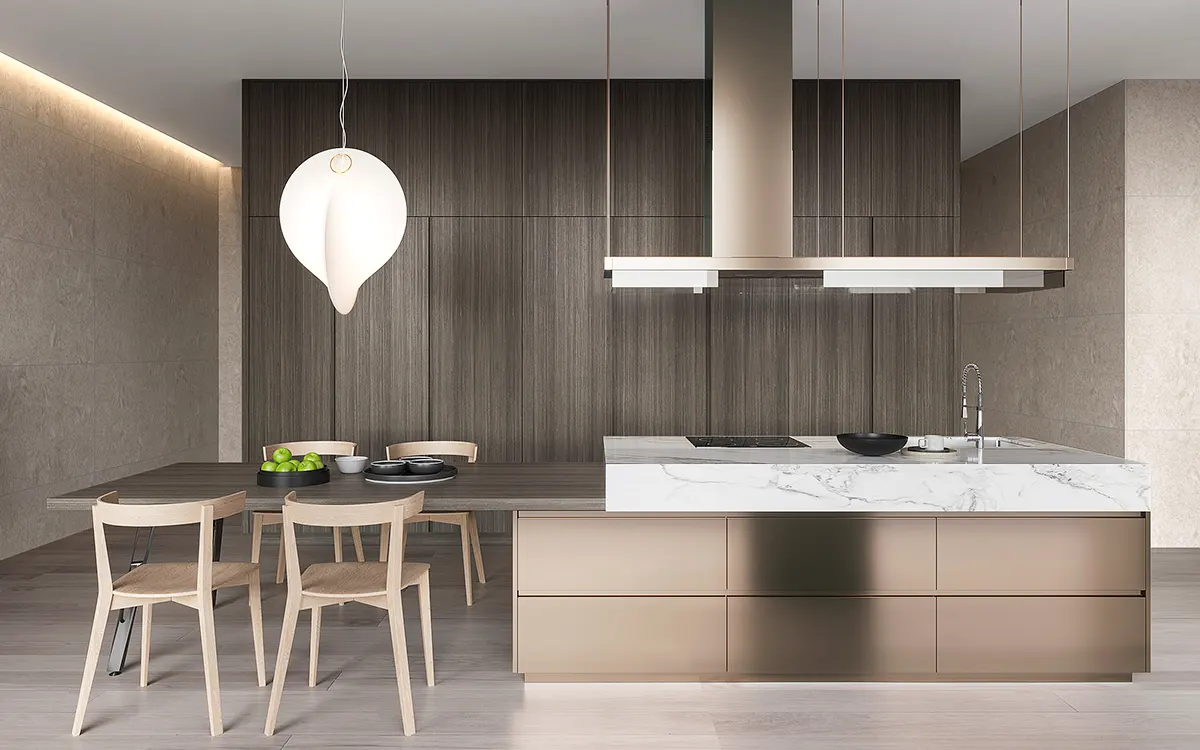 One-Wall Kitchen Cabinet Set with Large Island: Elegance Meets Functionality
Introducing our exquisite one-wall kitchen cabinet set, designed to elevate your culinary space while optimizing functionality. This contemporary yet timeless kitchen layout features sleek, handle-less cabinets in a refined grey stained finish and an eye-catching metallic copper PVC island, perfectly complementing any modern home aesthetic.
Built-In Up-to-Ceiling High Cabinets: Seamless Integration and Ample Storage
Our up-to-ceiling high cabinets are built seamlessly into the wall, ensuring a clean, space-saving design without compromising storage capacity. The grey-stained finish lends an elegant touch that blends effortlessly with any interior style.
Pocket Door High Cabinets: Cleverly Concealed Workspace
At the center of the one-wall layout, the two high cabinets feature innovative pocket doors that, when opened, reveal a handy countertop and open shelves. This smart design element allows easy access to your essential kitchen items while maintaining a clutter-free look when closed.
Metallic Copper Kitchen Island: A Statement Piece with Functionality
The kitchen island, finished in stunning metallic copper PVC, is a focal point in the room while providing additional storage and workspace. The white sintered stone countertop with subtle grey veins adds a touch of sophistication and is highly durable and easy to clean.
Attached Dining Table: A Cozy Spot for Family Meals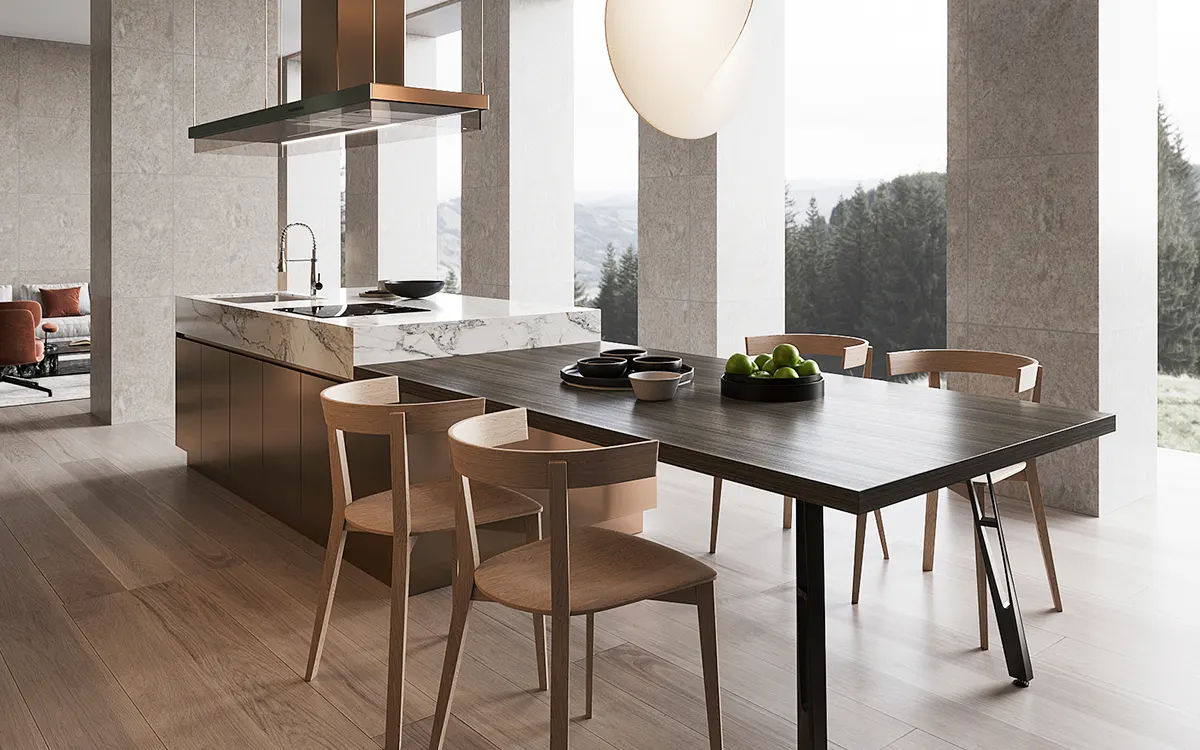 A grey-stained dining table is seamlessly attached to the kitchen island, offering a comfortable space for up to four people to enjoy meals together. This extension creates a warm and inviting atmosphere for family and friends to gather while keeping the overall design cohesive.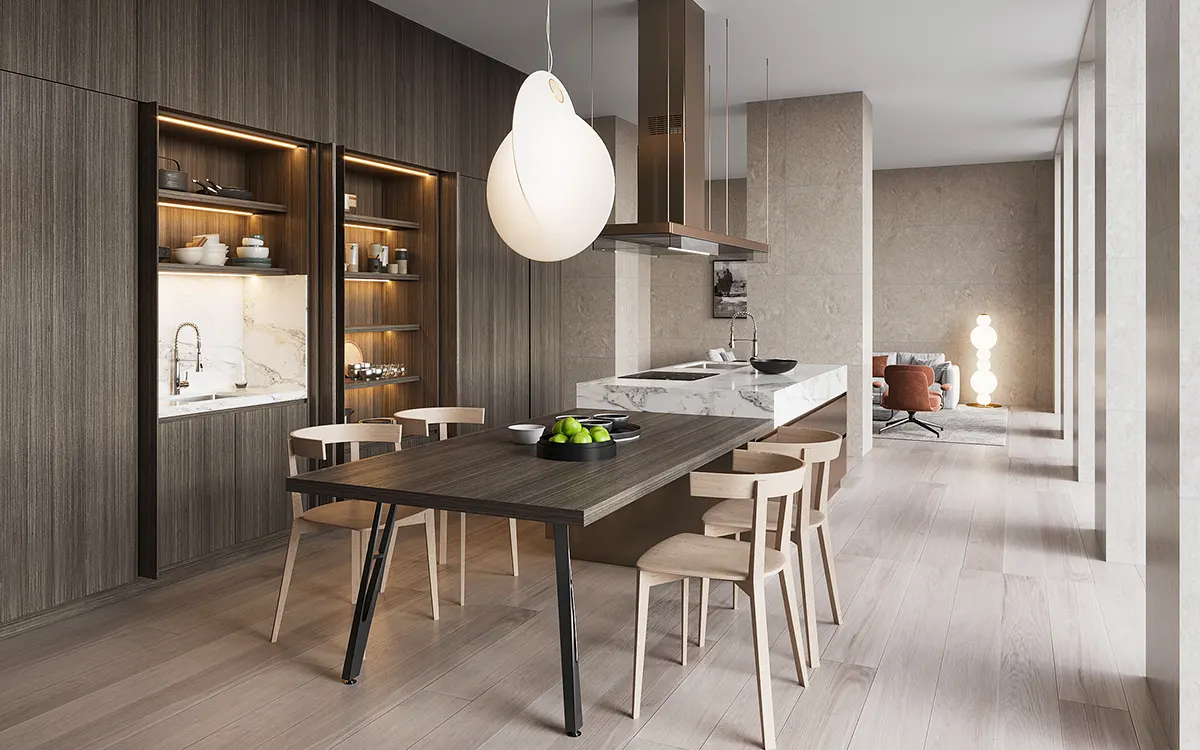 Experience the perfect blend of elegance, functionality, and modern design with our one-wall kitchen cabinet set with a large island and attached dining table. Transform your kitchen into a space where style and practicality go hand-in-hand for an unforgettable culinary experience.