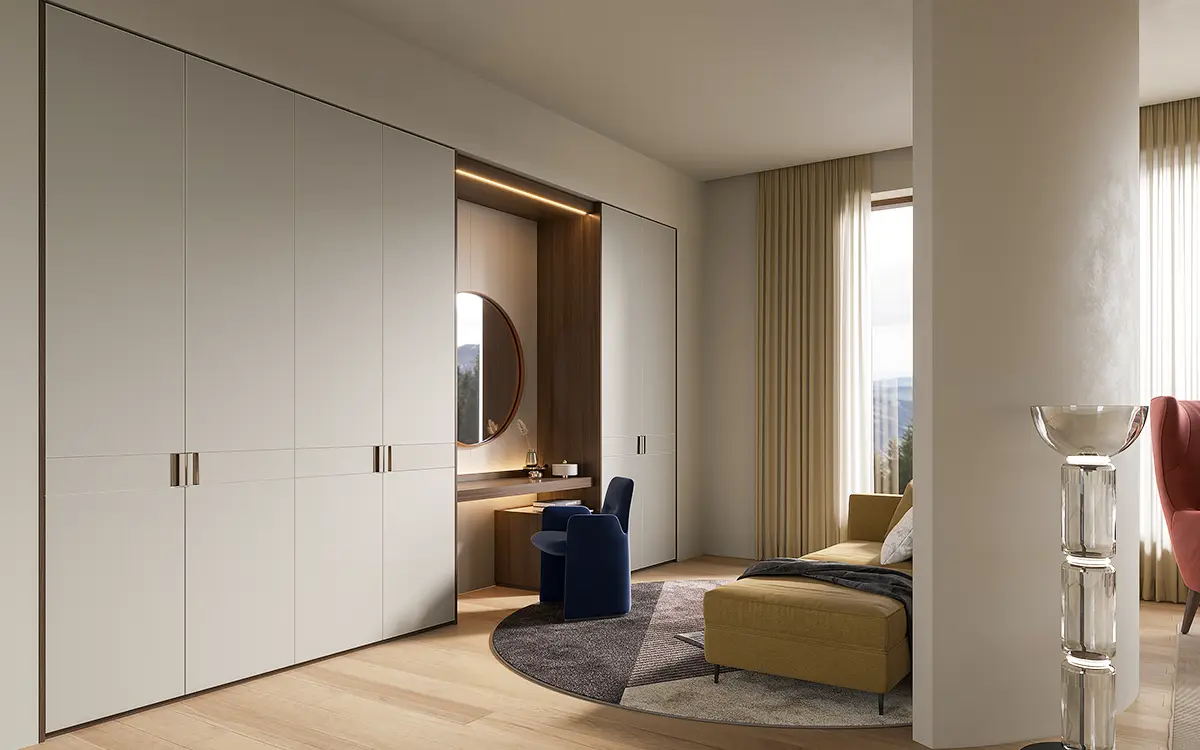 This contemporary and luxurious light grey wardrobe is a stunning mix of elegance and functionality. The subtle meld of light grey and beige doors emanates a soft sophistication. These doors are adorned with a leather-textured PVC finish, intricately designed with sutures on all four sides, creating a unique aesthetic appeal.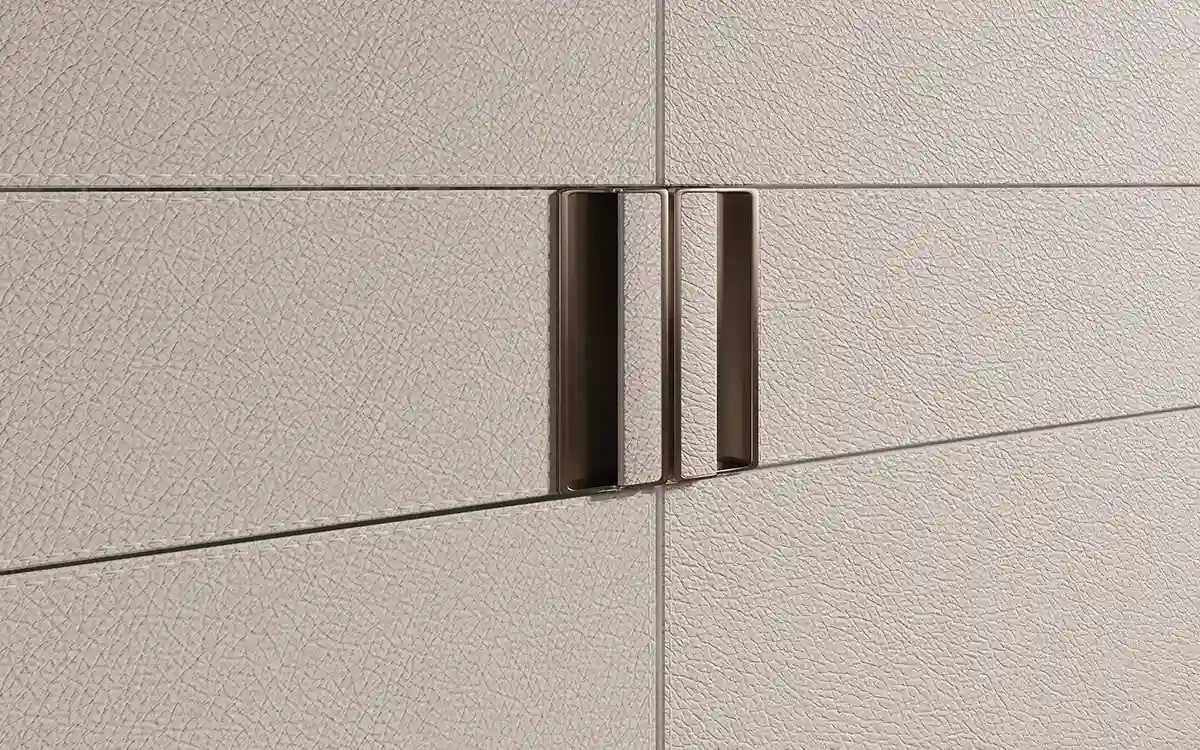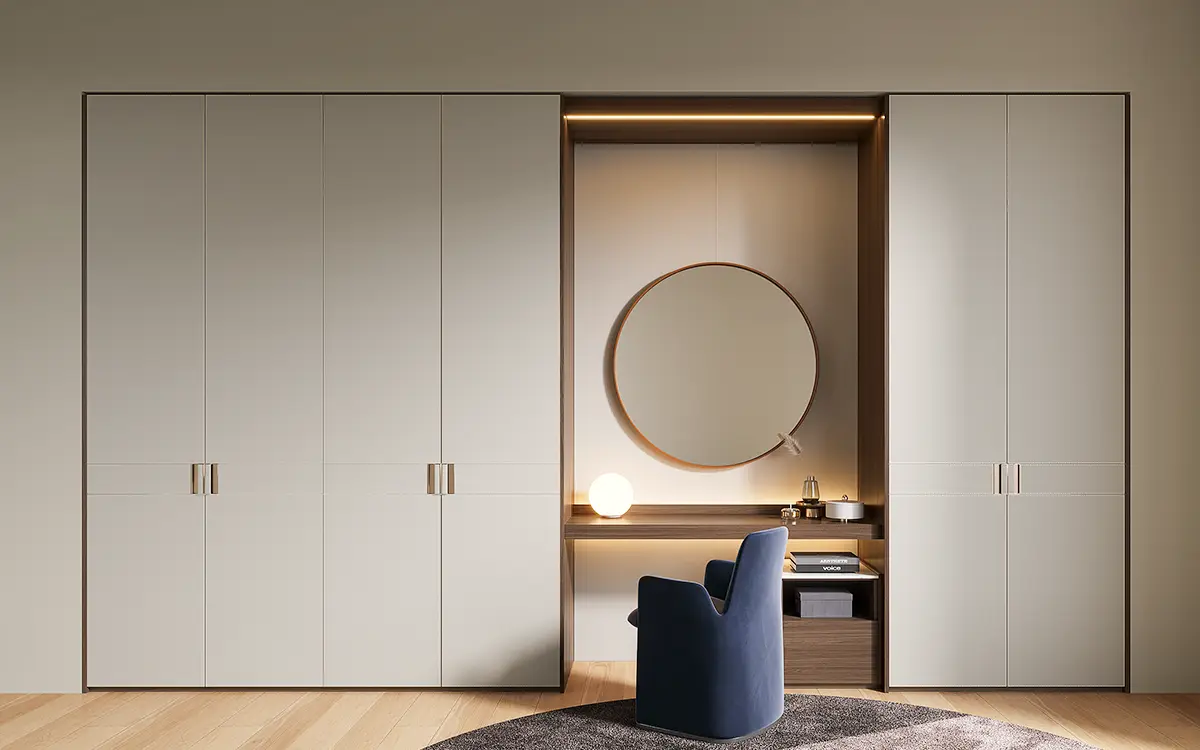 The wardrobe features six hinged doors, strategically placed with four doors on the left and two on the right, resulting in a visually satisfying symmetry. The vertical metal handles, recessed into the door surface, sit perfectly flush with it, maintaining the wardrobe's sleek appearance.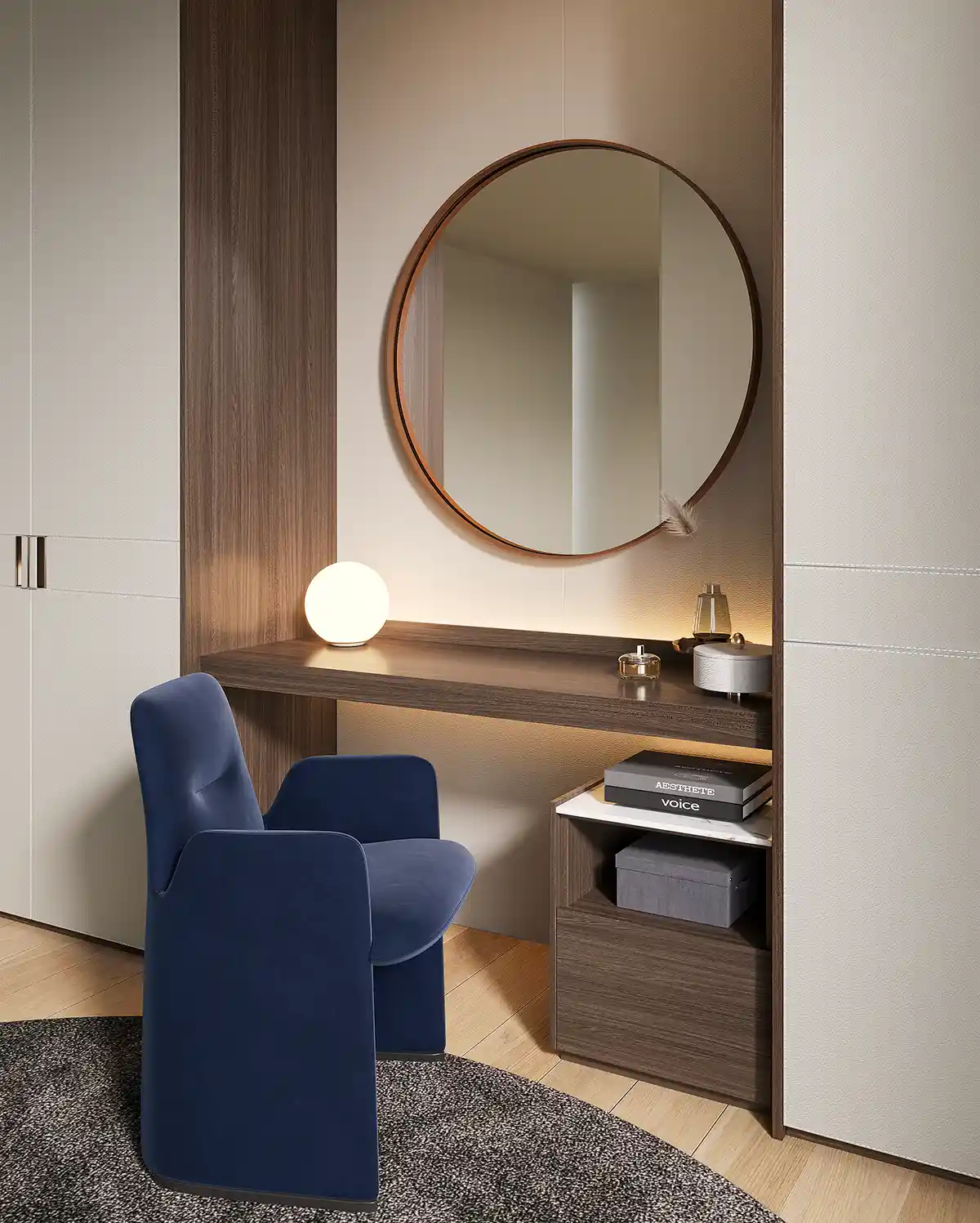 At the center, a wall-mounted dressing table steals the show. A round mirror commands attention on the wall, while a small storage cabinet nestled underneath provides a convenient space for storing essentials. The dark wood tone of the cabinet's carcass and the table contrasts beautifully against the light grey hue of the wardrobe doors, adding depth and intrigue to the overall design.

This wardrobe isn't just a piece of furniture; it's a statement of style, a testament to the modern design philosophy that marries luxury and practicality seamlessly.
Benefits of Grey Wardrobe:
Versatility: A grey wardrobe can blend effortlessly with various color schemes, making it a versatile choice for different interior decor styles.

Timelessness: The light grey shade is classic and timeless. It always goes in fashion, ensuring your wardrobe stays relevant and stylish for years.

Sophistication: The light grey shade, combined with the contemporary design, exudes a sense of sophistication and elegance, adding a luxurious touch to your room.

Psychological Benefits: Grey is known to evoke feelings of tranquility and calmness. A light grey wardrobe can create a peaceful and serene bedroom atmosphere.

Flexible Décor: A light grey wardrobe can serve as a neutral backdrop, allowing you to experiment with different colors and patterns in your room decor.

Practicality: Grey doesn't easily show dust or dirt, making it a practical choice for a wardrobe.

Highlighting Features: The light grey color of the wardrobe can help accentuate its unique features, such as the leather-textured PVC finish and vertical metal handles.

Enhancing Space Perception: Light colors, like grey, can make a room feel larger and more spacious. It can be particularly beneficial in smaller bedrooms.

Statement of Style: A contemporary light grey wardrobe is a statement of style that marries luxury and practicality seamlessly. It serves aesthetic and functional purposes, making it a worthwhile investment for your home.