Modular Kitchen Designs
White and Airy
For small kitchens, the most important thing when designing is to make them look airier and lighter. This modular kitchen design features glossy white painted and handleless doors, making the small kitchen look bright and clean. And the open shelves of wall cabinets also help create a light and airy modular kitchen.

Handleless Modular Cabinets
The cabinets are handleless, more space-saving, and easier to clean. And it is safer for families with young kids because you don't worry that kids will bump into the knobs or pulls when playing in the kitchen. It can be more comfortable to use. The kitchen cabinets are equipped with gola profile handles to have a handle-less look and look great. Without the pulls and knobs, the cabinets and drawers' surface look much smoother, bringing a tidy, orderly and seamless outlook.

Quartz Countertop
The countertop also features white quartz stone to keep colour consistency in this small kitchen. Quartz stone is better than natural stone for kitchen countertop use. Because it is non-porous and resistant to stains well, so you don't need to worry that the white countertop will be hard to maintain. All you need is a clean cloth with water, and you can keep it tidy.

G Shaped Layout
Like the shape of the letter G, the modular cabinets are built into the kitchen room's three and a half walls, allowing more storage space and increasing efficiency. There is more counter space when preparing meals. And moving around to prepare, cook, and get food from the stove to the table is easier.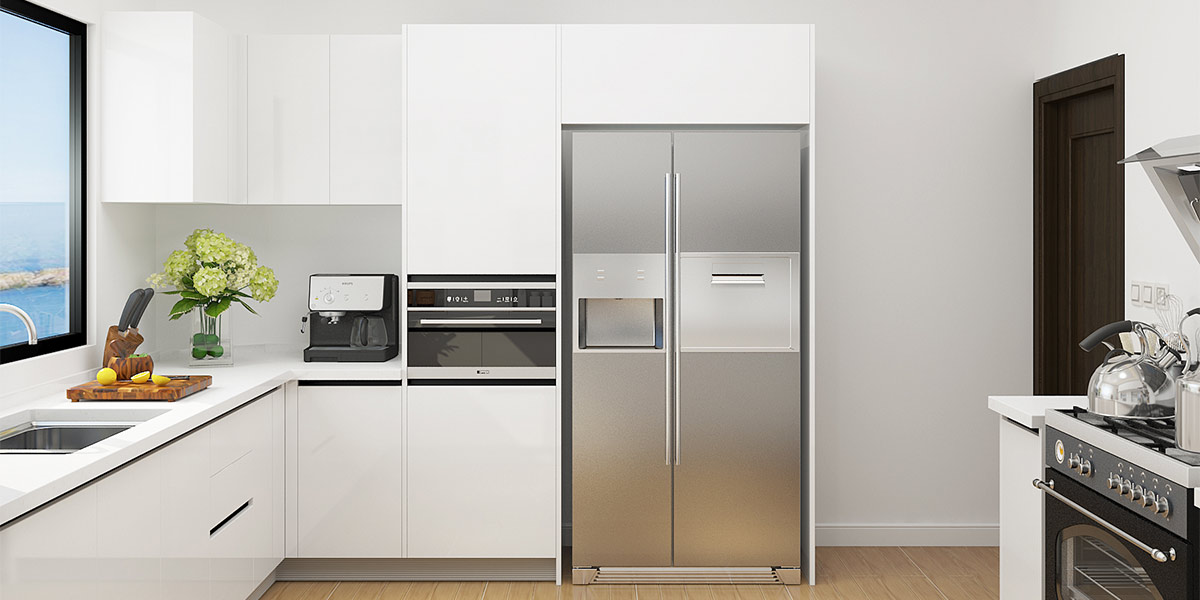 Flexible and Affordable
OPPOLIA can customize a modular kitchen to meet each family's needs with great flexibility. And a modern modular kitchen is more affordable than a traditional kitchen. It is a good option for families on a budget.
Aesthetically Pleasing
The white minimalist kitchen design brings aesthetically pleasant feelings to the users. It is cosy and relaxing to cook, work or play here.