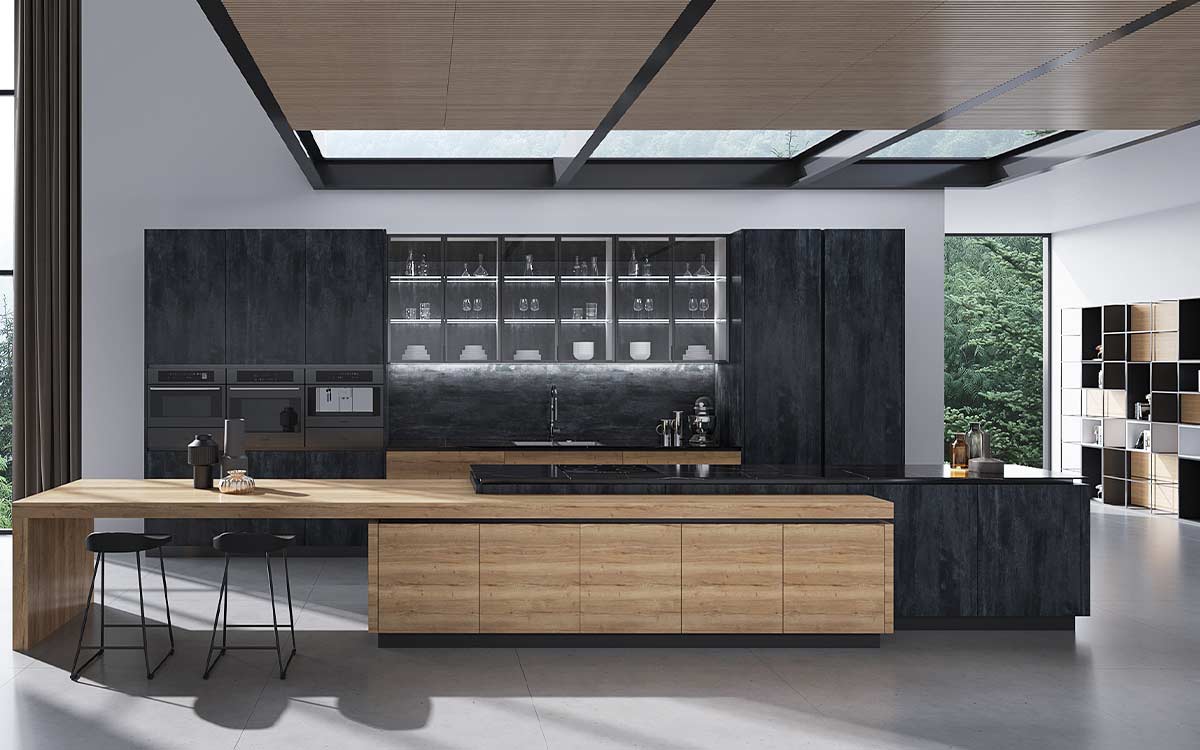 Introducing the elegant and highly functional single-wall kitchen with an island that redefines the modern culinary space. This sophisticated design maximizes storage and efficiency while offering a stylish blend of natural wood tones, dark blue-grey textures, and sleek black quartz countertops. Crafted for those who appreciate form and function, this kitchen cabinet set is the perfect addition to any home.
The centerpiece of this single-wall kitchen is the long island, boasting a stunning combination of light natural wood tone finish on the front side cabinets and lower level countertop. The back side island cabinets feature a dark blue-grey textured UV lacquer finish, complemented by a durable black quartz countertop. This exquisite combination of materials adds a touch of luxury to the space and provides ample storage and preparation space for all your culinary needs.
The wall cabinets are designed with glass doors and integrated lighting, showcasing your finest dinnerware and glassware while providing a warm, inviting ambiance to your kitchen. The high cabinets on both sides of the kitchen are finished in a rich dark blue-grey textured UV lacquer, adding a bold contrast to the lighter natural wood tones and enhancing the overall aesthetic.
The floating wood countertop design is one of the standout features of this one-wall kitchen with an island. This innovative element can be utilized as a dining table, comfortably seating two people for a cozy dining experience. The versatility of the floating countertop not only saves space but also adds a touch of sophistication to the overall design.
Upgrade your kitchen experience with this stunning one-wall design to add value to your house.