In recent years, white kitchens have seen a return in popularity. Many people are questioning why white kitchens are so trendy in a decade filled with vivid designs and eye-catching color choices. One of the finest investments you can make for your house is a white kitchen renovation.
Whites may appear dramatically different with matte or gloss finishes, and there is a wide range of hues available, from the brightest pure whites to those with mild warm or cool hues. White is also an excellent complement to various colors and materials, whether utilized as main parts or accents. White is the ideal clean and simple colour for aficionados of modern kitchen designs, but it also works well in classic, transitional, country, and Scandi kitchens.
With these ideas, you'll be encouraged to experiment with the adaptability of white in the kitchen. It's full of promise and deserves to be one of the most popular kitchen color choices.
Minimalist White kitchen
Minimalist kitchens are all about making less appear to be more. Elegance is all about keeping surfaces clear of clutter by assigning a designated location inside cupboards for kitchen gadgets and countertop gadgets. The appearance of peace is created by a white kitchen with a few basic flashes of color and natural fabrics.
White is a simple method to portray minimalism since it instantly feels clean and uncomplicated. A minimalist masterpiece is an all-white kitchen with matte, flat-front cabinetry. By putting appliances and kitchen devices out of sight, cooking stations like this one provide a blank canvas for cooking home-cooked meals. White is a simple method to portray minimalism since it instantly feels clean and uncomplicated.
Modern White Kitchen
Modern white kitchens are the best design choice for modern splendor in your home.
Using white as the foundation for your kitchen is a perennial favorite among people who want a clean aesthetic. It is light, vibrant, and a fantastic complement to gorgeous natural materials.
Going entirely white, on the other hand, doesn't have to be dull — figuring out how to style white cabinets, worktops, and countertops with visually appealing design flourishes will transform a simple design into a showpiece.
Choosing crisp, unbroken white surfaces can make your kitchen feel contemporary, but too many will make it feel clinical and boring. The use of transparent grey glass is a trendy tactic in white kitchen backsplash that might assist alleviate this problem.
White Country Kitchen( White Shaker Cabinets )
White country kitchens are continuously in style, and the best part is that they are timeless. White kitchens have the advantage of being easily found in any style, whether it is contemporary, rustic, or traditional. White kitchens are simply appealing because they provide a sense of hygiene while also providing a fantastic basis for displaying your personality. Most significantly, the white hue adds utility to any kitchen design. Which also serves as the heart of any home. Because white generates a sense of more space, white country kitchens are ideal for tiny rooms with limited natural light. Shiny surfaces, on the other hand, reflect light and make the area appear larger. It's worth noting that white comes in a variety of colors. Warmer colors of white are recommended (from the yellow-red side of the color pallet).
All White Kitchen
With the wrong additions, all-white kitchens might appear cold and sterile. White is a bright, open color, yet it is very easy to make it snug and inviting.
The advantage of a white kitchen is that it is adaptable. You'll never be trapped with a palette that's overly crowded or overpowering in terms of color or texture. According to Interior Impressions, going with all-white cabinets provides you with a lot of possibilities in the future. People frequently experience the issue of a kitchen that is adequately big yet seems confined due to vertical space. Introducing all-white features is the solution to this.
White High Glossy Kitchen
A gloss finish style is unquestionably the best option for a truly modern kitchenette. Whatever the size of your kitchen, a high gloss kitchen can convert a dark, drab space into a colorful, light environment you'll like spending time in.
Coupling gloss units with hardwood worktops add a sense of traditionalism. Handleless gloss kitchen designs are great for individuals who want to bring a contemporary touch to a very traditional design. Fans of vivid color schemes will appreciate the variety of colors offered, ranging from white gloss to cream gloss kitchens. A striking gloss kitchen island, like those featured in the Milano collection, is ideal for people looking for a unique design.
Matte White Kitchen
White matte kitchens have a soft, smooth texture combined with a dazzling white aspect, creating an open sense and a calming setting. When the subtle style of the matte surface is combined with a simple color palette, the result is a pared-back aesthetic and a soothing environment in the house. These clean-looking pieces create a stunning Scandinavian-inspired concept by focusing on the texture of natural fibers on surfaces. In your house, high-quality matte white kitchen cupboards provide the ideal blend of aesthetic appeal and utility. Aside from that, the matte white surface is very uncommon, allowing your kitchen to stand out from the pack and amaze visitors with no effort.
Cream Kitchen
It is a stunning cream kitchen with a contemporary design with a sleek and modern twist. The cabinets feature a beautiful cream finish, an elegant, timeless off-white color that blends perfectly with any decor style. The handleless design adds to the streamlined look, providing a seamless and polished appearance that will impress. The centerpiece of this kitchen is a spacious island, perfect for meal prep or entertaining guests. The island is also finished in cream, complementing the surrounding cabinets seamlessly. The black quartz countertop offers a striking contrast to the cream cabinetry, adding depth and sophistication. The cream kitchen cabinets are the perfect choice for those who seek a clean and sophisticated aesthetic in their home.
Off White Kitchen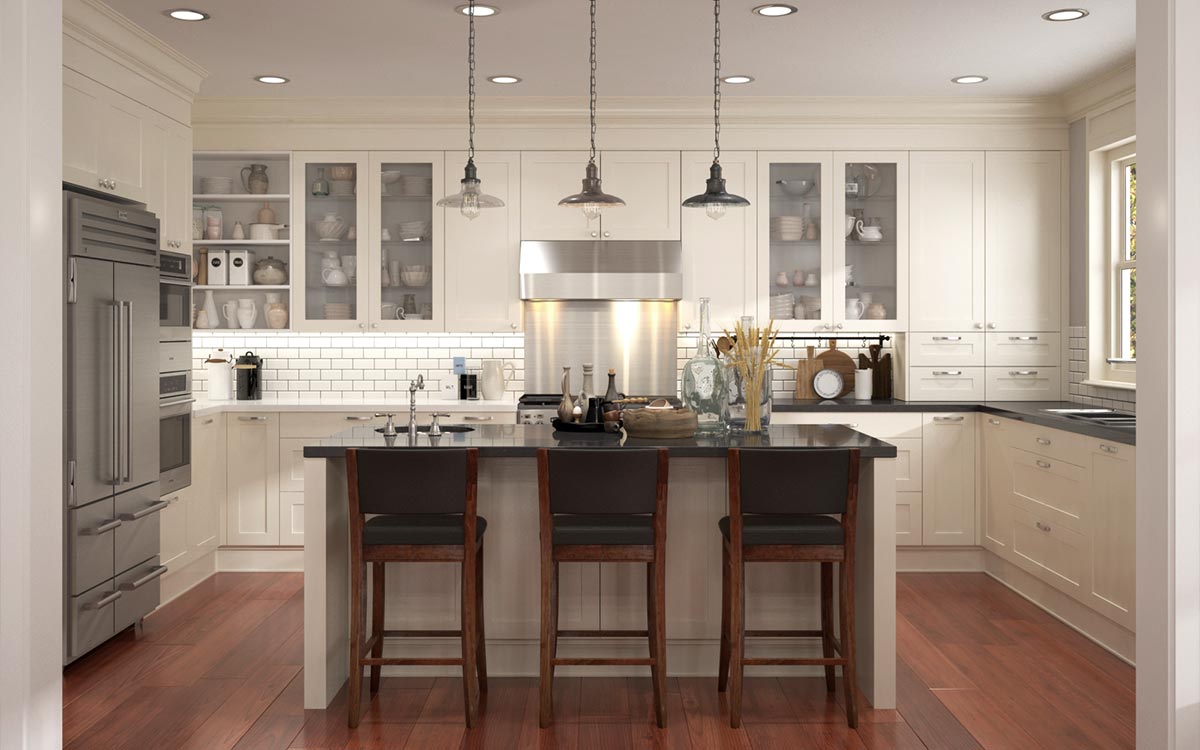 Off-white kitchen cabinets in shaker style can add elegance and sophistication to any kitchen space. Shaker-style cabinets are characterized by simple, clean lines and minimalistic design, often accented with subtle details that add a touch of warmth and charm. The U-shaped layout with a center island provides ample storage and workspace, making it a practical and functional design choice for busy kitchens. The ivory-white finish of the cabinet doors offers a timeless, classic look that can complement any decor style. The silver cabinet handles add a modern touch, providing a stylish contrast against the off-white cabinetry. The black quartz countertop is an excellent choice to complement the off-white cabinetry, adding depth and dimension to the overall design. Together, these elements create a stunning kitchen space that is both practical and stylish.
Grey and White Kitchen
Grey and white are a great set of colors to mix and match; everyone will find something they like here. If you want dramatic and contrasting settings, go with white and dark grey or charcoal grey; if you prefer neutral tones, go with white/cream, dove grey or other light hues of it. Grey and white are typically accented with metallics, either neutral tones for a more streamlined effect or gold, brass, and copper to warm up the area. You can also give a warm rustic vibe to the area by using natural wood tone for worktops or a kitchen island. Grey and white kitchens are frequently two-tone, which is a popular style nowadays, and the tops are white, while the bottoms are grey, making your kitchen appear lighter, almost like an ombre effect. You may also choose a gray kitchen with a white kitchen island, worktops, and a backsplash to make it look new.
Black and White Kitchen
Black and white kitchen concepts are a timeless choice — beautiful, impossible to date, and simple to design. A predominantly white kitchen with hints of black is the most secure option, but black cabinets paired with white counters are a riskier alternative that may appear clever, dramatic, and always immaculate.
Regardless of how the color balance is tipped, a black and white kitchen design effortlessly lends itself to a contemporary scheme as well as period houses. Black and white may be used with carved wood for a warmer look, marble for an exquisite look, and metallics for a more modern look. The motif will add character and appeal to your kitchen design ideas. Brighter, stronger hues, on the other hand, maybe switched in and out using everything from accessories to paint.
White and Wood Kitchen
Using a scheme that emphasizes white and wood accents is a tried-and-true method for creating a fashionable and pleasant kitchen. White brightens a kitchen, which aids with activities such as chopping, and creates a light and airy ambiance that is friendly to family and friends. And wood adds visual depth and texture, adding to the intriguing feel. Getting the proper mix of white and wood accents, on the other hand, isn't always easy. Too much white may become sterile and harsh. Too much wood may make a room feel claustrophobic. The white and wood kitchen is stunning in every way, combining two very contrasting materials and finishes to create a peaceful and invigorating environment. White is a popular color in modern buildings, while wood offers warmth and friendliness due to its natural presence. Both of them collaborate to bring realms that are quite different together, and the combination is exciting!
Navy and White Kitchen Cabinets
Blue is undoubtedly one of the most popular kitchen hues after white. It's traditional, relaxing, and provides color without being too overpowering. There are several ways to incorporate blue into your home, whether it's the backsplash or the cabinetry.
Though white kitchens will never go out of trend and have been a style staple for years, why not personalize the look by adding an accessory color, such as blue? The hue will not detract from your layout, can be utilized with a variety of interior designs, and will be a color you adore for years to come.
You don't have to paint your entire kitchen navy to achieve the appearance. Consider making an accent wall out of white cabinets.
Red and White Kitchen
Color combinations of white and red are modern, lively, and timeless. Modern red kitchen cabinets are not for everyone, but they may encourage you to explore vivid bright red colors and create gorgeous white and red color combinations for your modern kitchen design.
Modern kitchen colors and design ideas evolve, but white and red décor remain eternal classics. Many items may appear out of place to one age while being ideal for another, but red is always associated with passionate, outstanding, and energetic kitchen design. Pastel and off-white décor themes are traditional kitchen design options. These kitchen interiors seem brighter, more colorful, and more intriguing with red kitchen cabinets. The color red is an excellent choice for producing highly apparent kitchen cabinets and trendy kitchen décor.
White and Gold Kitchen
White kitchen cabinets are a classic option that is popular among homeowners due to their bright, clean appearance that can accommodate a broad range of aesthetic preferences. Whether your customers have chosen frameless smooth white cupboards or white Shaker-style cabinets, the hardware they choose will help create the tone in the area. Gold is the solution for elegance and grandeur in the kitchen – even white modern style kitchen countertops take on a high-end appeal with the correct gold finish.
The combination of white cabinetry with gold kitchen island may be both elegant and eye-catching in any home. The pair may be readily updated for a more modern design or toned down for a more classic kitchen. The combination of white kitchen cabinets with gold kitchen island adds variety and innovation to your kitchen's style and personality.
A "yellow" undertone can be found in traditional gold items. When we think of gold, this is the first hue that springs to mind. This kitchen provides a large white and grey canvas for refined gold accents in center island.
White and Green Kitchen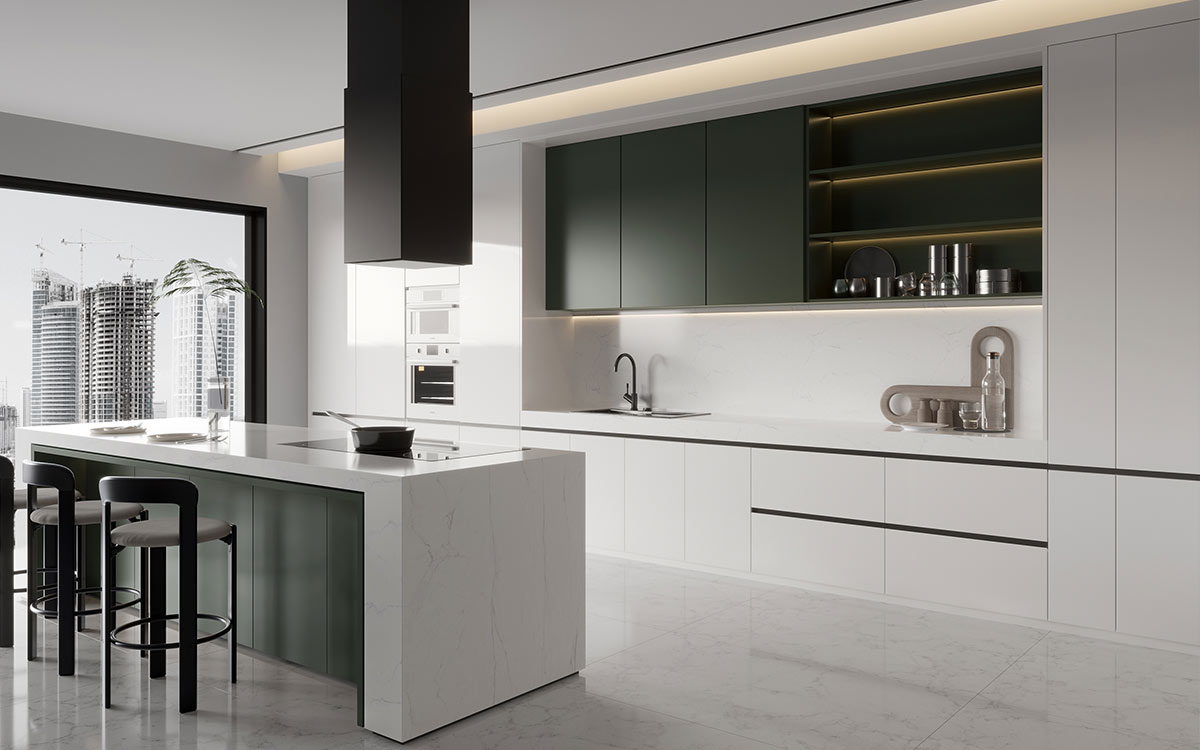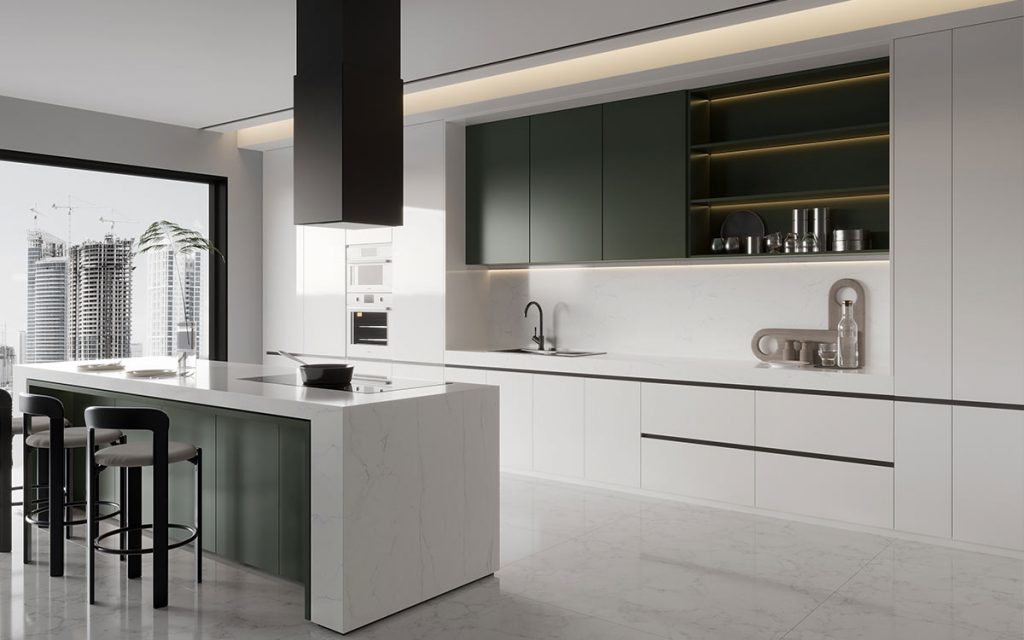 A minimalist and handleless kitchen design can be perfect for people who want to create a clean and modern look. One such design combines white and green kitchen cabinets, which can add depth and contrast to the space. In this particular design, the high and base cabinets are finished in a semi-gloss pure white, creating a sleek and polished look perfect for a minimalist aesthetic.
On the other hand, the wall and island cabinets are finished in a matt dark green, providing a bold and striking contrast to the white cabinetry. This combination of white and dark green cabinets can create a unique and visually appealing look that can set your kitchen apart from others.
The kitchen features white quartz countertops with grey veining, which perfectly complement the pure white cabinetry. Additionally, the island features a waterfall countertop design, which adds visual interest and provides a functional space for meal prep and entertaining. Overall, the white and dark green kitchen cabinets with quartz countertops create a sophisticated, modern space perfect for any minimalist design enthusiast.
White and Beige Kitchen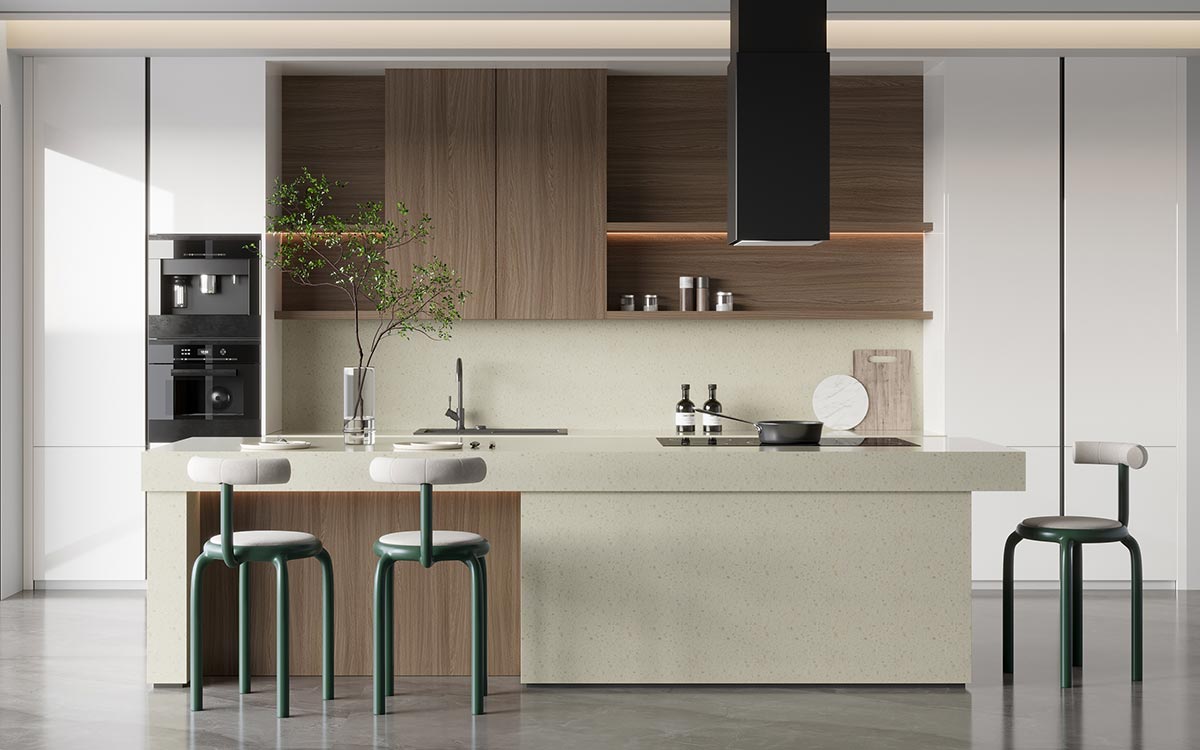 White and beige kitchen cabinets have become popular for homeowners who prefer a contemporary, clean, and minimalist look in their kitchens. This design features handleless cabinets in a semi-gloss milk-white finish, creating a sleek and seamless appearance. The beige quartz stone used for the island adds warmth and texture, creating a welcoming atmosphere in the kitchen. The waterfall design of the island's countertop adds a touch of elegance and sophistication. Additionally, the mid-tone wood finish of the wall cabinets complements the white and beige color palette, providing a natural and organic feel to the space. Overall, this kitchen design perfectly combines modern and classic elements, making it a timeless choice for any home.
White and Brown Kitchen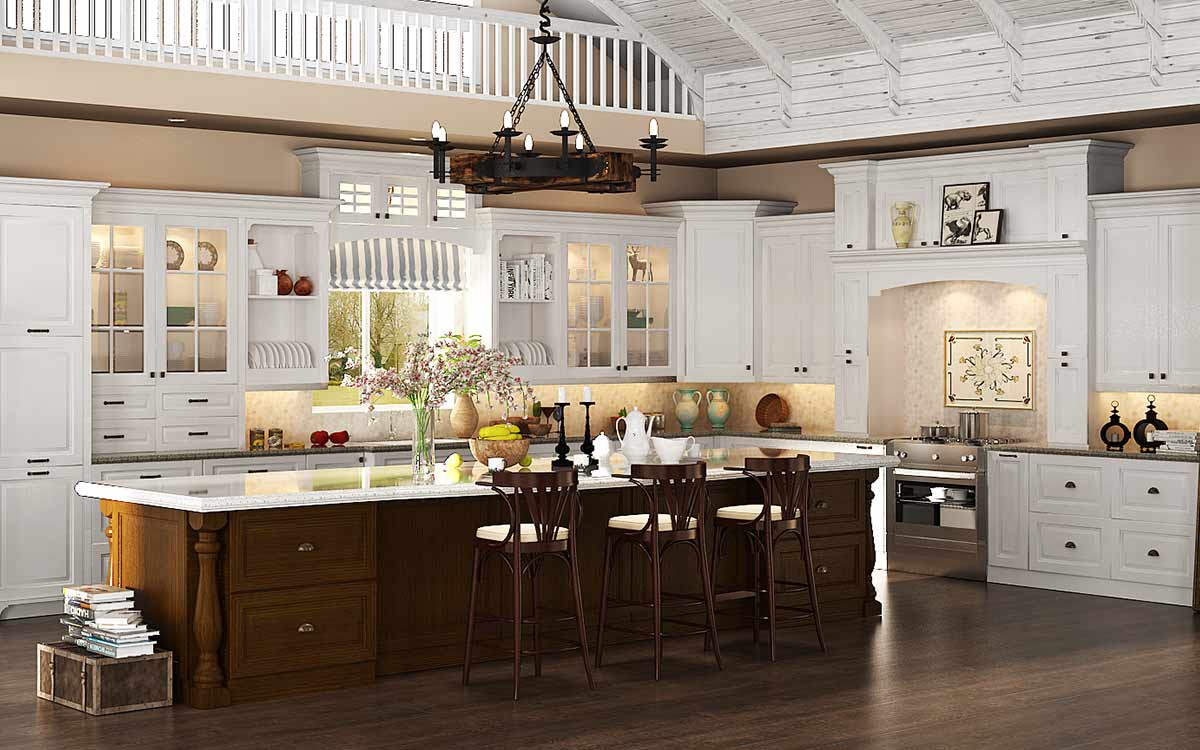 It is a classic shaker kitchen design featuring white and brown elements. This kitchen is designed to blend traditional and modern styles perfectly with its clean lines, sleek hardware, and elegant finishes. The white-stained cabinets are adorned with matte black hardware, which adds a touch of sophistication and contrasts beautifully with the white color. The island's drawers feature copper cup pulls, which provide a warm and inviting feel to the space.
The L-shaped kitchen layout is both functional and stylish, providing ample counter space and storage while allowing for an open and airy feel. The large island serves as the centerpiece of the kitchen, with its dark brown finish and white quartz countertop providing a striking contrast to the white cabinets. The island's corners are embellished with Roman columns, adding a touch of grandeur and elegance to the overall design.
White and Pink Kitchen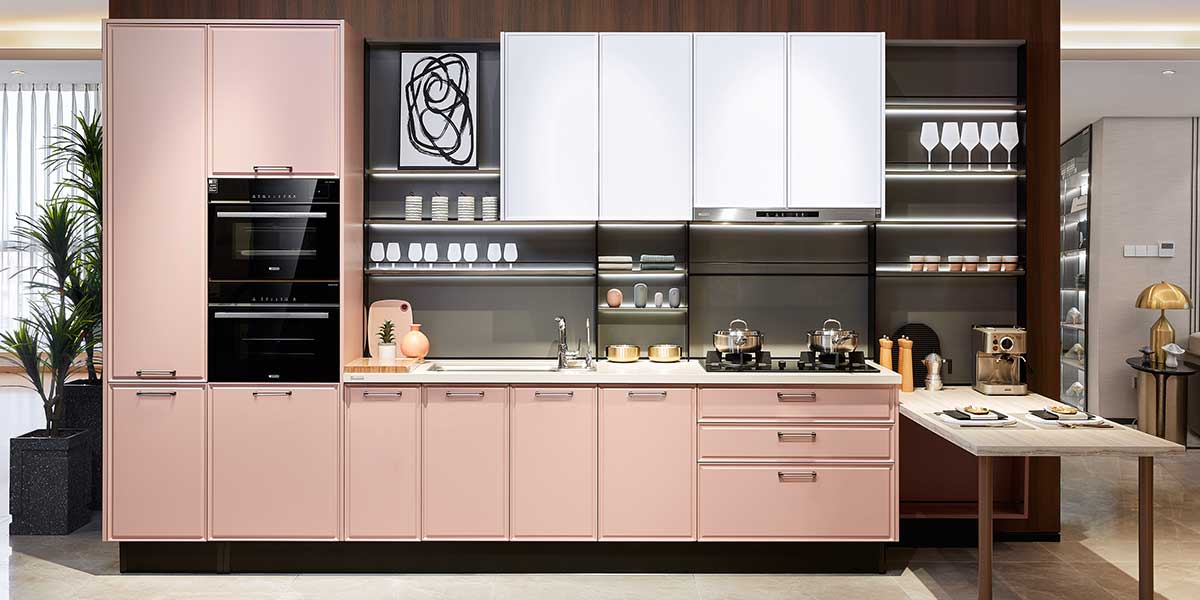 It is a stylish and charming kitchen with a unique combination of white and pink cabinets. This small one-wall kitchen is designed to provide functionality and elegance with its seamless integration of modern elements and a touch of vintage flair. The cabinets are finished in matt white and soft pink, creating a harmonious contrast that exudes a fresh and inviting atmosphere.
The wall cabinets in a matt white finish provide a clean and sleek look, while the high cabinets and base cabinets in a soft pink finish add a touch of warmth and playfulness to the overall design. The pink color of the cabinets is soft and subtle, making it a perfect choice for those who want to add a pop of color to their kitchen without being too bold.
Adding to the charm of the kitchen is the attached wooden dining table on one side, which provides a cozy and inviting space for meal times. Using natural wood also adds a touch of warmth and texture to the kitchen, creating a perfect balance of materials and colors.
Conclusion
A crucial selling point for a white kitchen if you're contemplating whether it's a smart option is its ageless character.
White kitchens are attractive for a variety of reasons. They are slick and futuristic, and the greatest part is that white is a timeless hue that will never date or go out of style.
Choosing white furniture also provides a blank canvas for other areas of the kitchen, allowing for splashes of color, maybe for a backsplash or decorations, and making it easy to include a mix of materials.
A white color palette may make a tiny place feel larger while also not clashing with the décor of a large, open-plan environment. A white kitchen, with its sense of brightness and natural freshness, would look equally at home in a modern home as it will in a rustic cottage.
Fill in to Download Catalogues