There is a lot concerning kitchen design. No detail is too tiny when it comes to faucets, lighting, and decor in a dream kitchen. However, while there are many minor details to note in your kitchen, don't miss a major feature: your kitchen cabinets.
You have probably seen cabinets outside your house that you would like to use in your kitchen. However, before deciding to install new cabinets, ensure you have some knowledge of the various types of cabinets available, all of which are attractive. Let us go deep into different styles of cabinets.
Minimalist Style
The secret to creating a truly unique and stunning minimalist kitchen is to employ sleek handleless cabinetry and a rich and realistic combination of materials and textures. The kitchen will be clutter-free thanks to hidden storage, but there will be enough open space to display treasured items. Rolling back doors and sliding them into cabinetry has opened up a whole new world of design possibilities.
Pros Of Minimalist Cabinet Style
Minimalist cabinet style is preferred by a good number of users. Its popularity and high preference are a result of these benefits:
–Less hardware. There's less of a need for handles, trim, and other add-ons that add to the expense of the project or become a large part of the ongoing maintenance.
–Clean and neat. In minimalist kitchen cabinets, the lack of color and texture variety creates a tidy appearance.
–Clutter-free. In a Minimalist Kitchen, keeping your kitchen clutter-free is arguably the most important thing you can do.
Cons Of Minimalist Cabinet Style
Minimalist cabinet style has numerous benefits but that doesn't mean the style has no drawback.
-They can easily trap dust, you will need to clean up daily.
Modern Style
Modern kitchen cabinets are distinguished by their sleek, angular appearance, as well as the simplicity of their doors and frames. The movement toward midcentury modern furniture, which emphasizes sharp angles and curves, is reflected in recent modern design. This style can also be used for modern kitchen cabinetry. Modern kitchen islands can house modern cabinets with this angular or curved style, as well as modern components for storing cookware and dishware.
Modern kitchen cabinets are frequently composed of man-made materials such as metal, plastic, concrete, and glass. Modern kitchen cabinets with semi-opaque or frosted glass are very trendy. Replacing old cabinet doors with frosted glass doors is a quick and affordable method to update your kitchen. Wood veneer or plastic laminate can be used to cover modern kitchen cabinets.
Use wood veneer with an accentuated horizontal grain pattern to obtain the desired modern aesthetic. Modern kitchen design incorporates a variety of materials. While conventional kitchen cabinets are often built entirely of one type of wood, modern kitchen cabinets can incorporate a variety of materials such as wood, laminates, glass, and metal to create a more unique look.
Pros Of Modern Cabinet Style
These cabinets not only enhance the aesthetics of your kitchen but are also extremely functional. Here are some of the most important advantages of modern cabinets.
-Modern cabinets are usually low-maintenance. These cabinets don't need to be cleaned very often.
-Because of the robust and durable materials utilized in these cabinets, Modern cabinets are right up there with Rustic cabinets in terms of durability.
-Modern cabinets are impervious to water and humidity, making them ideal for usage in humid environments.
These cabinets are simple to decorate. By simply adding a hardwood worktop to your modern cabinets, you may give them a country feel.
Cons Of Modern Cabinet Style
Modern kitchen cabinets, like other cabinets, have a variety of drawbacks. The following are some of the significant drawbacks of adopting modern cabinets.
-The hues of these cabinets can fade over time if they are exposed to too much heat.
-Cooking becomes more difficult for materials like metals when the cabinets are placed near the stove since metal absorbs a lot of heat.
Contemporary Style
By its very nature, contemporary design is sleek and minimalist, giving your home a streamlined and clean appearance. Flat surfaces and little decoration are common in contemporary kitchen cabinets to achieve this impression. More classic cabinetry will include ornate trim and imitation finishes, whereas contemporary cabinetry will have a cleaner aesthetic.
Contemporary design refers to design that is current to the current era, yet it may draw inspiration from its predecessor, modern design, which is characterized by a clean, uncluttered style. Contemporary cabinets will not have any crown molding or raised panels to achieve this clean, spacious effect. Flat surfaces with sleek, minimalist hardware and no additional ornamental embellishments will be used instead.
Like the gleaming hardware-free cabinet doors in this sleek kitchen, ultra-contemporary kitchen cabinets offer an impeccable impression. Contemporary cabinets are distinguished by their lack of decoration and simplicity of design, and they can be made of a variety of materials.
Pros Of Contemporary Cabinet Style
It's not a bad idea to pick a contemporary style for your kitchen cabinets. Here are some of the pros of using a contemporary style for your cabinets.
-Ideal to be used in a small spaced kitchen.
-The contemporary cabinets can be taller to provide more storage space.
-They are simple to design.
Cons Of Contemporary Cabinet Style
It's also crucial to know that contemporary cabinets have a negative side despite a good number of advantages.
-Too much heat will pill off cabinet paint.
Transitional Style
The profile of transitional kitchen cabinets is always sleek. They are frequently made of wood rather than the lacquer used in modern kitchens. The cabinets have recessed or paneled doors that blend in nicely with the rest of the kitchen's design.
For transitional kitchens, shaker cabinets are the go-to alternative. They are the ideal backdrop for an uncluttered design, with their clean lines and paneled doors. They also provide the homeowner the freedom to be creative in other areas of the house. Shaker cabinets can be contemporary or traditional depending on the hardware and wood color used.
Pros of Transitional Style
Their popularity is a result of numerous advantages they offer users. Here are some of the pros:
-Almost any design style can be used with it.
-Complements any hardware
-It's simple to pair with slab-style cabinetry.
-Due to its popularity, it is widely available.
Cons of Transitional Style
Despite offering numerous advantages, transitional cabinets have a drawback.
-To keep dirt from accumulating on the inset area, you will need to clean it on a regular basis.
Traditional Style
Traditional cabinetry has become increasingly unusual as current tastes embrace an unfussy style with elements like raised panels, beadboard detailing, and other flourishes that look old to some and classic to others. Traditional cabinets are typically made of dark woods such as mahogany or maple and are painted in neutral hues. You can source a good-quality traditional cabinet from Oppolia, a home-furnishing brand in China.
Pros Of Traditional Cabinet Style
People still value traditional looks and this style is still common in some homes. Let us look at why they are still popular recently.
-Scratches and dents on the surface of traditional cabinets can be readily concealed by repainting them.
-They are durable.
-They are strong since they are made of mahogany.
Cons Of Traditional Cabinet Style
With all merits of the traditional style of cabinets, they still have a drawback.
-Water can cause the wood to deteriorate, allowing mold to form.
Rustic Style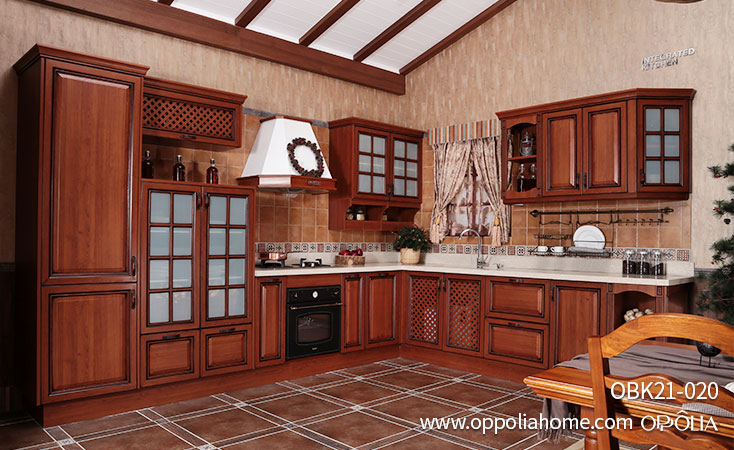 A kitchen cabinet that is rustic is one that is based on previous styles and trends. Rustic cabinets are well-known for their affinity for traditional color schemes and styles. Furthermore, these cabinets have an organic and flowing overall feel, making them an excellent cabinetry choice for your kitchen.
Deep and rich wood tones, such as Cherry and Mahogany, are commonly used in rustic cabinets. These cabinets, which are usually provided with slopes, curves, and simple edges, would be an excellent addition to your kitchen. People who appear to have a strong interest in history are more likely to be drawn to rustic cabinet designs and other choices. When we talk about rustic style, we have two types. Rustic country-style and urban rustic.
Rustic Country Style
A focus on the raw features of wood, generally with an emphasis on wood grain, a distressing aspect, and a lack of ornate design, characterizes rustic country-style cabinets. At best, it belongs in mountain cabin retreats and genuine rural farmhouses, while a too literal rendition of this aesthetic can look outmoded in more modern settings.
Urban Rustic
Raw wood can also be used in a more sophisticated way to bring texture and a focus on natural materials to contemporary kitchen cabinetry. The rich stain gives it a sophisticated look, and the cabinet wall's floor-to-ceiling wood adds a touch of class. You may also enhance the dimension by mixing wood finishes, such as using darker colors on the lower cabinets and lighter hues on the uppers.
The Benefits of Rustic Cabinets
It's not a bad idea to go with a rustic design for your kitchen cabinets. These designs have a more natural and wild aspect to them, which elicits sentiments of excitement and happiness. Here are some of the advantages of using a rustic style for your cabinets.
1.Rustic cabinets have a timeless, classic, and elegant appearance. Rustic-styled cabinets have a general spect that adds to the overall beauty of your kitchen.
2.Because of the sturdy and firm hardware used during the construction process, these cabinet designs are often more durable than other options.
3.Rustic cabinets, particularly those built of wood, offer a wide range of possibilities. There are numerous sorts of wood, each with its own appearance, pricing, and durability. When dealing with Rustic cabinets, you have a vast selection of cabinetry materials to pick from.
4.Rustic cabinets can be made in a variety of shapes, patterns, and colors. These are also significantly less expensive than other cabinetry designs, thanks in part to their reduced installation costs.
Cons Of Using Rustic Cabinets
It's also crucial to know that Rustic cabinets do come with a few negatives. The following are some drawbacks to selecting a rustic design for your kitchen cabinets.
1.One of the most significant disadvantages of utilizing Rustic cabinets is their susceptibility to humidity. When the moisture content in wood cabinets rises too high, the wood expands and contracts, causing the wood to warp over time.
2.Rustic cabinets take a lot of upkeep because they need to be cleaned more frequently and with special wood-cleaning chemicals.
Conclusion
We are confident that choosing a design selection for your forthcoming remodel will be easier now that you are an expert on kitchen cabinet styles. If you have any additional questions, please do not hesitate to contact our OPPOLIA team.