Enjoy our pictures of custom kitchen cabinets,walk in closet and bathroom vanities in the modern whole house project completed in Perth, Australia.
It is the first time Mr. and Mrs. L have worked with Oppolia on their newly constructed villa in Perth. According to the customer's request, Oppolia designed and furnished the kitchen, closet space and bathroom, all in a modern sleek look while maintaining a fresh, natural beauty.
Real wood grains add a natural aesthetic to the entire home, and the high-gloss finish enhances and harmonizes the room with an airy touch, welcoming and reflecting the lighting. Warmth and coziness are the keynotes of this modern-style home.
Modern Grey Glossy Kitchen Cabinets
An open-plan kitchen features an L-shaped layout and a center island. The wood veneer and shiny surface blend to form a remarkable and harmonious modern warmth. In the kitchen, the designer utilized a clever arrangement of different working zones to create an efficient work triangle. This design provides a seamless transition between storing, washing, and cooking activities, saving steps between each section.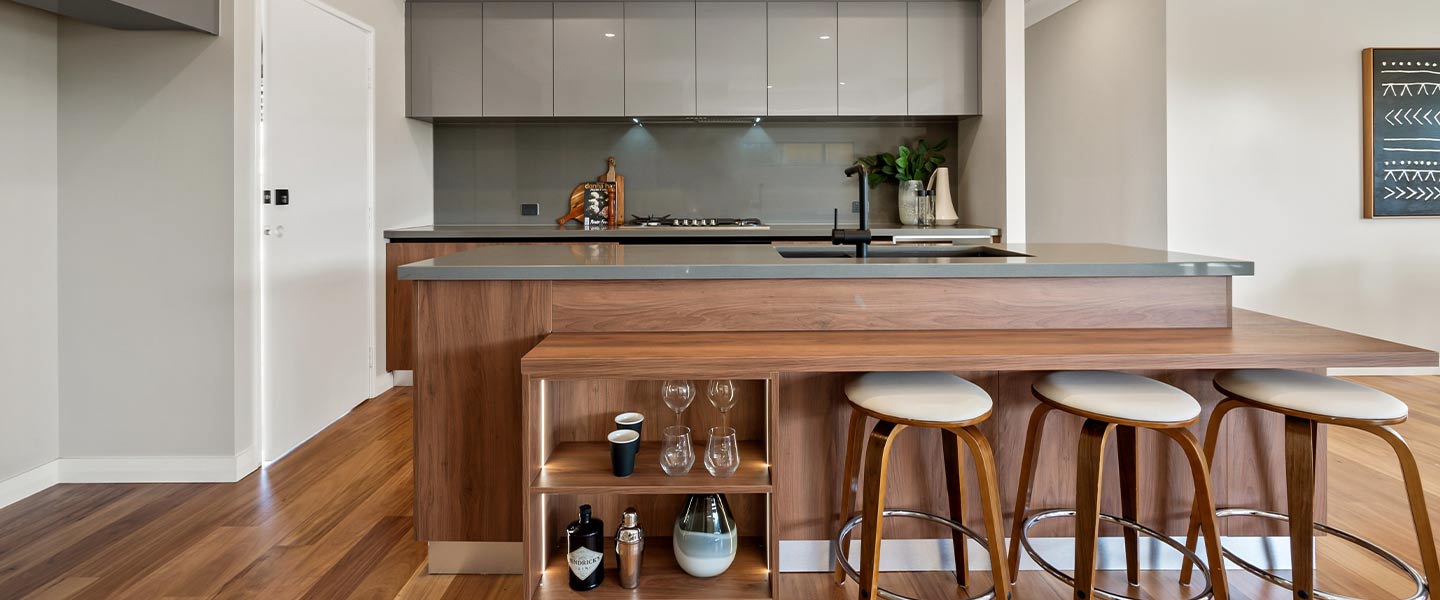 The wall and high cabinets doors are high gloss grey UV lacquer finish. The base cabinets doors and the island are medium wood tone. Light grey glossy kitchen cabinets are modern, eye-catching and cool. Combining glossy grey with natural wood accents, this modern kitchen design has an elegant and warm outlook.
Wood Walk in Closet
This closet space maintains the consistency of the whole-house design, using the same wood grain finish. To optimize the closet storage system, we added functional accessories such as a trouser rack, extendable hangers, and drawer dividers. This space provides both a pleasing aesthetic and practical storage solutions.
Wall-mounted Bathroom Vanity
Also, the vanity designs were provided using the same color scheme and decoration elements of the whole house decor style. As our clients requested, several corners in the house have been furnished with compact vanities in order to make the house a more hygienic environment for family members and guests.