Many people's fantasies revolve around the kitchen more than any other room in the house. Cabinets are one of the key components in the final design of a kitchen. Anyone who is intending to construct or remodel their kitchen will agree that choosing the appropriate cabinets is essential.
Kitchen cabinets are available in a wide range of materials, from low-cost to high-end. Among the different materials available, wood and steel cabinets are common. Take a look at the kitchen cabinet trends for the year 2022.
Gloss White Kitchen Cabinets
White kitchen cabinets have remained fashionable in recent years because they give your kitchen a simple and high-end impression. These are contemporary kitchen cabinets with high-gloss white lacquer doors and gloss-painted doors with integrated handles. The high gloss kitchen cabinets finish is a gleaming, light-reflecting finish.
The reflection makes the room appear larger and more open than it is. Because of these factors, white gloss kitchens have always been in high demand. The high gloss cabinet finish is most suitable for tiny or smaller kitchens.
Solid Wood Kitchen Cabinets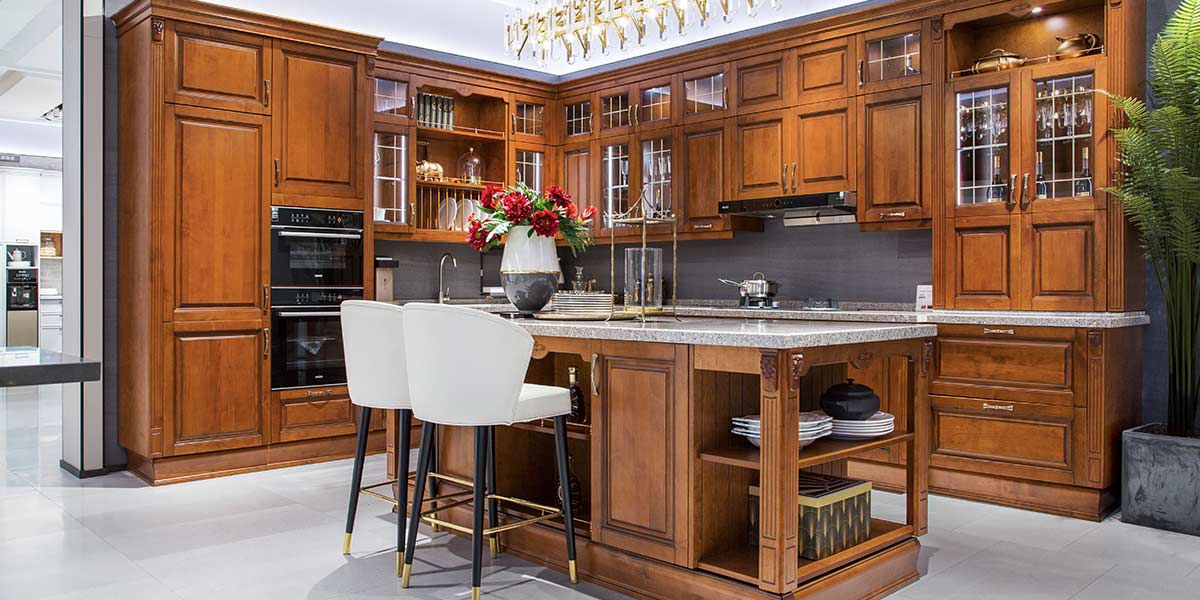 Wood is poised for a significant kitchen comeback thanks to a growing focus on natural materials and sustainability. Many homeowners love the warmth and natural feel that wood offers to a room. Kitchen cabinets made of solid wood can give your home a regal look.
With a center island, you can choose between an L-shaped or a U-shaped kitchen cabinet design. These cabinets are designed to be functional for both storage and cooking. Adding glasses on these cabinets or leaving them open will increase permeability in the kitchen, making it more attractive and functional.
Lacquer Painting Kitchen Cabinets
Refinishing or painting kitchen cabinets is a popular trend that many homeowners are following. Painting your kitchen cabinets is a cost-effective approach to give them a fresh look without having to replace them. Some people prefer lacquer for their kitchen cabinets, while others prefer high-quality enamel paints.
Lacquer paint is a transparent finish that dries to a firm, long-lasting surface. It is waterproof and chip-resistant by design. Lacquers are available in a variety of colors and finishes, including clear. Lacquer is far more flexible and can adapt to the expanding and contracting of wood surfaces. That is unlike paint, which is thicker and can absorb moisture in wood, causing it to weaken with time.
Color Combining Kitchen Cabinets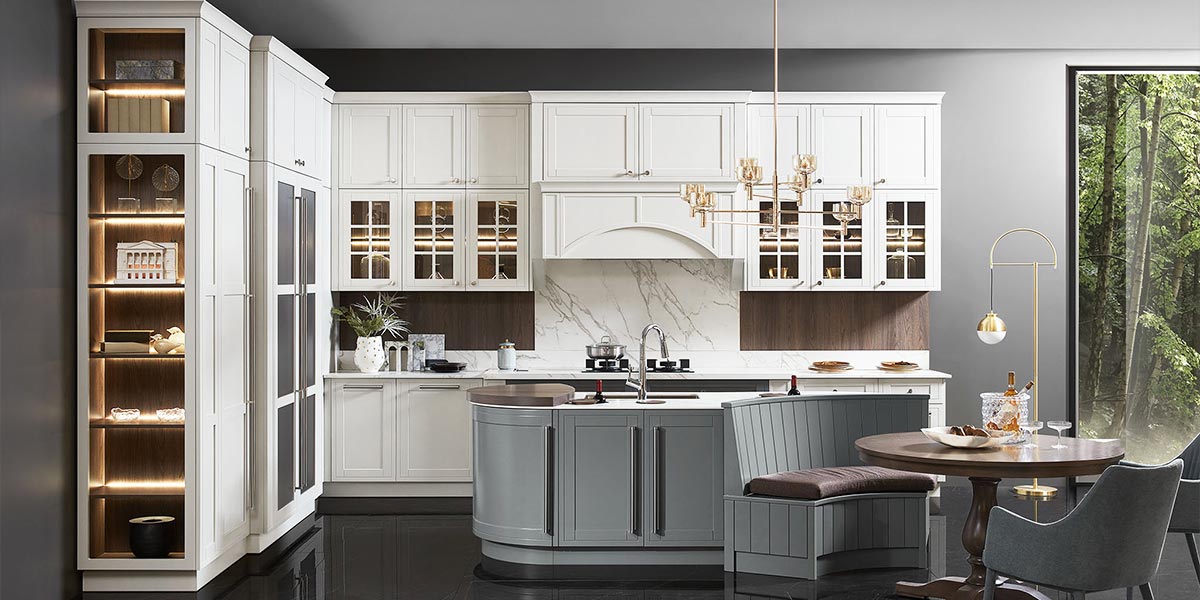 If you've been looking for ways to add color to your home, 2022 is the year. Colors are becoming more sleek and aggressive in kitchens. You can utilize color in a variety of ways, depending on the impact you want to achieve. Several alternatives make moving beyond white simple. Kitchen cabinets with contrasting colors usually appear modern and distinctive.
To make fantastic kitchen cabinets, you can utilize UV lacquer doors and white melamine doors. The white color will brighten and tidy up the space. The matt white finish makes a significant contribution to the trendy look. Trying out two-tone kitchen cabinets can work with several kitchen types for anyone attempting to break out of the single color zone. You may experiment with color without going all out with two-tone cabinetry.
Melamine Kitchen Cabinets
Melamine cabinets are popular because they are less expensive than solid wood cabinets and have a similar appearance. Melamine kitchen cabinets come in a wide range of colors and styles. They usually come in plain hues of several tones of imitation wood textures.
Melamine is a popular cabinetry material for a variety of reasons. It's long-lasting, comes in a range of colors, is low-cost, and has a consistent finish. Melamine fused with plywood is also the most environmentally friendly cabinetry solution. House designers take advantage of its continuous color ability to create trendy minimalist designs at a low cost.
Modern PVC Kitchen Cabinets
PVC kitchen cabinets have become a surprising new trend in recent years. PVC is a cost-effective solution for kitchen cabinetry, as well as being extremely easy to clean and maintain. In comparison to other regularly used modular kitchen cabinet materials, PVC kitchens are a cost-effective solution. You can choose a high-grade PVC coating for your kitchen cabinet doors. This material is extremely tough, with a scratch-resistance of 20 pounds.
Combine blending colors on your cabinets to create a sweet and inviting atmosphere. For instance, you can have soft white PVC doors with varied colored lines on the frames for your kitchen cabinets. They will have a sophisticated and distinct appearance. Then, within the glass wall cabinets and high cabinets, install a lighting system. It creates a cozy and inviting atmosphere in the kitchen.
Conclusion
Modern kitchen cabinets are an excellent solution to many of the interior design issues that plague today's kitchens. They might be anything from the main attraction to a lovely backdrop. Traditional, out-of-date kitchen designs are often drab and uninspiring.
Modern kitchen cabinets, on the other hand, add flair and style. They are also durable and attractive. One thing is for sure, kitchen cabinets are not going out of style anytime soon. We have fantastic kitchen cabinets at Oppolia to meet your demands. For further information, please contact us.